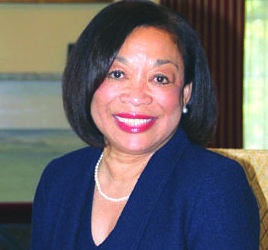 07 Jan

A New Leader Makes History at Tuskegee University
Presidency, Pride, and Progress
BY: Tisha Hammond
Mother Tuskegee has birthed a new legacy of leadership… and one of these presidents is not like the others. The pride of the swift-growing south has ushered in a new Golden Tiger Lily. Effective July 1, 2018, by way of a unanimous selection by the Tuskegee University Board of Trustees, Lily D. McNair, Ph.D., became the eighth President of the Golden Tigers and, in a show of progression, its first female president.
Already boasting many honors, Tuskegee, which is the only Historically Black College and University (HBCU) designated as a National Historic Site, now proudly links Dr. McNair's photo and bio in the annals of its 136-year history. How fitting that she has already gifted its campus with her undivided attention while still in the process of becoming. That is to say that Dr. McNair, whose heritage is both African American (father) and Japanese (mother), assumes a "wabi-sabi" perspective on world affairs and relationships. This philosophy allows her to accept transience and imperfection. In other words, this Tiger Lily sees beauty in its natural form and can appreciate and celebrate simplicity, age and wear. In fact, a highly acclaimed academian with lasting legacies at Princeton, State University of New York at Stony Brook, University of Georgia, Spelman, Wagner College and more, she wears her tenure as a symbol of readiness to pass through Tuskegee's doorways.
Though far from her hometown of Browns Mills, New Jersey, all 5.6 square miles of it, Dr. McNair is no stranger to a tight-knit community. In fact, as a graduate student at State University of New York at Stony Brook, she dreamed of setting up a community health center with her beau, now husband, Dr. George W. Roberts (retired from The Centers for Disease Control and Prevention). Although she did not open that health center per se, as a trained clinical psychologist, Dr. McNair has spent her academic and professional career communicating with care and sensitivity. Her appointment to the presidency marks the university's commitment to sustainability through long-term community connectedness and its healthy, wealthy forecast of giving with Dr. McNair now home in this position.
Having spent her transition months connecting with the Tuskegee community, Dr. McNair is now incredibly focused on her top priorities, which include increasing student success, supporting faculty excellence and sustaining philanthropic growth. With encouragement to bloom where planted from her mentor, Dr. Beverly Daniel Tatum, President Emerita, Spelman College, Dr. McNair is adapting and reacting effectively to her swift-growing environment.
Like the namesake flower, Tiger Lily, Dr. McNair is strong, yet sweet and distinctive. She has a knack for shared leadership, winning others over and confronting difficult situations before they morph and return to hit harder. You can expect a disciplined, humanistic approach to her decision-making, much like the traditional Japanese art of flower arranging known as Ikebana. She has already made a mark on campus with her optimism and her search for "Excellence in Every Way." You can further expect a president who will present and project herself in such a way to demonstrate her openness and willingness to seek out unforeseen and unexpected opportunities for Tuskegee.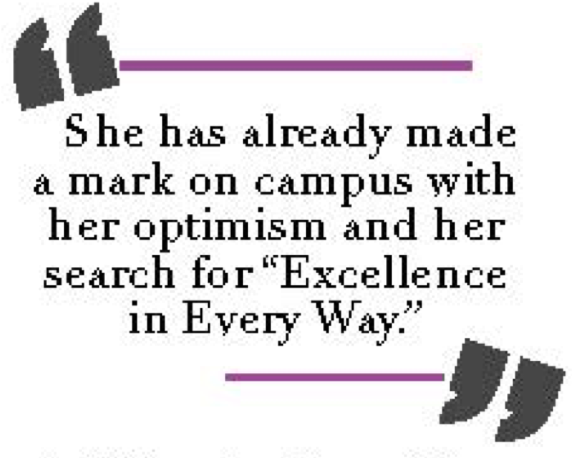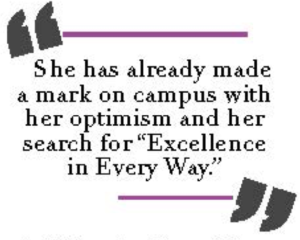 Dr. McNair sees the endless possibilities in her faculty, staff, student body and the larger Golden Tiger community. She owns her position as role model to a student body who is female. As a best-selling author of "Women: Images and Realities: A Multicultural Anthology", Dr. McNair is grateful to contribute to Mother Tuskegee at its highest level. For her, the vision is clear, the energy is right and the time is now. Now truer than ever are the lyrics of The Tuskegee Song penned by Paul Laurence Dunbar in 1906, at the request of its founder, Dr. Booker Taliaferro Washington: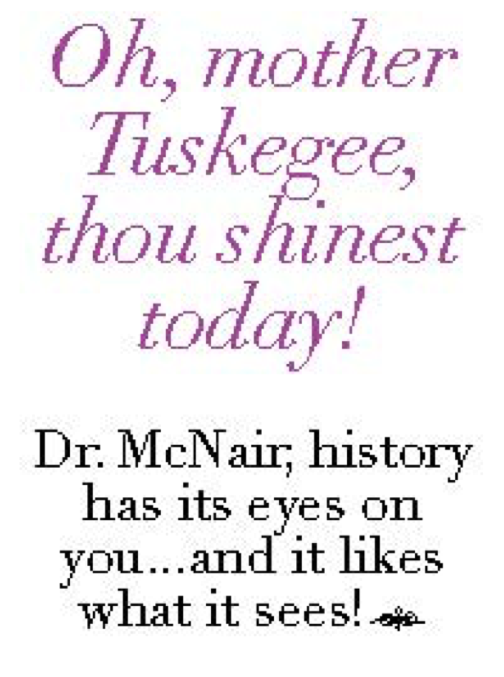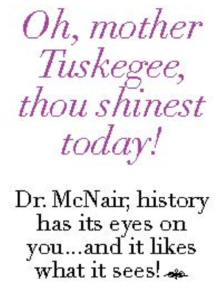 Tisha L. Hammond is known as The Small Business Cheerleader and holds a degree in Criminal Justice/Business from Coppin State University (HBCU). Her "Pep Talk" small business advice column is featured in Entrepreneur & Executive Magazine. She currently resides and operates a business consulting company in Farmington Hills, MI.