Simple is good. Simple is easy to execute. Simple is often the best path to success," Carla Hall says of cooking soul food for everyday eats and celebration event menus. Simple is solid advice from this Bravo Top Chef finalist, who earned fan favorite distinction and became co-host of ABC's The Chew. And what is simple? Hall notes that the key lies in easily accessible ingredients and equipment likely already in your kitchen—sharp knives, wooden spoons, silicone spatulas. And finally, clear and concise instructions that get a cook from start to finish with ease.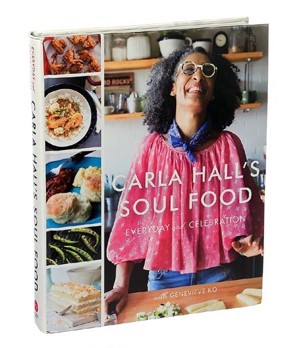 Paying homage to her first language in cooking, African American soul food, Carla Hall's Soul Food: Everyday and Celebrations embraces tradition and reimagines centuries-old recipes. After training and working with European cuisine, Hall says she stepped away from soul food, not wanting to be "pigeonholed." But she found herself returning to her roots, again and again. Yes, there was a sense of comfort and familiarity with foods from her childhood. But, she says, "For this book, I tried to imagine what my ancestors would be cooking from the farm if they were alive today. By looking at our roots, I'm showing you how delicious and healthy true soul food is. African-Americans were cooking farm-to-table centuries before it was a label to slap on hip restaurants."
Along with standard categories like Appetizers and Desserts, the content is organized into food groups: Vegetables, Beans, Breads, Poultry, Seafood, and more. Bonus categories include Cornmeal—think spoonbread dressing and johnnycakes—and Seasons and Condiments. The latter category features familiars like comeback sauce and regional-specific blends, such as North African Harissa Spice Mix. Another delight is the section for celebration meals. Hall notes that these take more time and are best prepared in community with friends and family.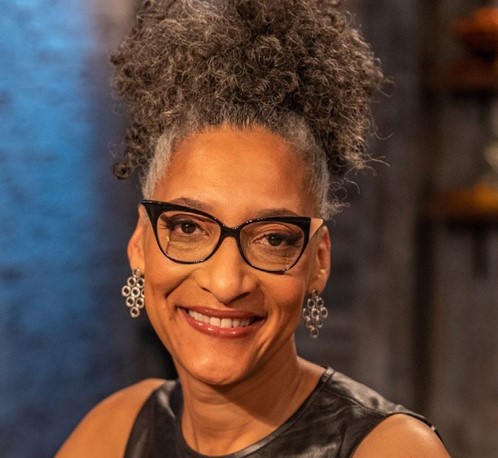 Each recipe is designated as "Everyday" and/or "Celebration," allowing readers to imagine prep time and kitchen dynamics. But perhaps one of the best aspects of Hall's cookbook is the clarity of instructions. For hottugs, a vegetarian hotdog, her advice about grilling uses accessible language and visual guides: "Hot, then low. Give them a turn on the hot side of the grill to get nice grill marks, then let 'em roll over low heat. If you keep them on the hot side, the skin will burn and burst before the inside's hot. All those precious juices will go to the coals."
Hall's advice on how to use her cookbook is straightforward. She suggests reserving "Celebration" dishes for holidays because you'll need more time and ingredients. While "Everyday" meals should be prepared Southern cafeteria-style: one meat item (for non-vegans/ vegetarians) paired with three vegetable sides. Three veggies may sound like a lot after the end of a long day; however, with easy recommendations like barbeque celery root, the three-veggie task feels conquerable.
Hall understood the assignment in this 322-page cookbook for the everyday chef. Ninety-two percent of its content is recipes, each with a brief regional history and contemporary cultural significance. So, whether you're feeding yourself or your family, there's a well-mapped-out recipe with healthy ingredients. If you're looking to learn or revisit soul food in your daily or holiday menus, Carla Hall's Soul Food: Everyday and Celebrations is an excellent guide to reclaiming your time… and kitchen.
Tiffany C. Courtney is a freelance writer and storyteller who lives in Philadelphia with her wife, child, and sweet pup.