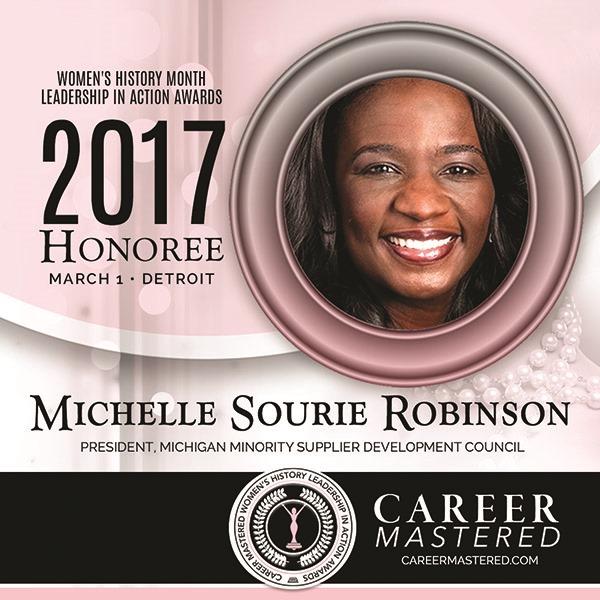 01 Nov

2016 Career Mastered Women's History Month Awards

FOR IMMEDIATE RELEASE
Contact:  LaTanya Orr
Selah Branding/Design/PR
(313) 862-2995
(866) 601-4441

2016 Career Mastered Women's History Month Awards
Annual Program Dedicated to Celebrating Women's History
Nominations are being Accepted
Outstanding Women Achievers in Competitive Fields Selected
Honorees are Exceptional Role Models of What a Woman Can Do
For Immediate Release
Detroit, MI/Charlotte,NC – (November, 2015) –   Linwick & Associates, LLC, (LWA), announces its annual awards program dedicated to celebrating and recognizing Women's History.
Twenty-five (25) amazing women will be recognized during the "2016 Career Mastered Women's History Month Awards Program Gala" to be held on March 1 at the Charlotte City Club in Charlotte, North Carolina and March 14 at the Crowne Plaza Detroit Riverfront in Detroit, MI.
Linwick & Associates, LLC is sponsor of the event.  With offices in Metropolitan Detroit and Charlotte, North Carolina, the global human resources consulting firm believes today's winners are creating their own futures, reinventing their industries, reshaping value systems within businesses and driving businesses to become increasingly competitive in the market place.
In March 2016, Women's History Month celebrates 36 years.  Dr. Lisa Lindsay Wicker, President & CEO of LWA and founder of Career Mastered Women's History Month Recognition Program, explained the importance of the event.  "Today's women leaders are Game Changers.  They take charge of their careers and take charge of their futures.  These women have made their mark in business and are exceptionally strong role models of what a woman can do. Giving recognition to these deserving women will also inspire future generations."
Wicker says there is real power in hearing women's stories, it opens the way to inspire today's generation toward the future. The National Women's History Month theme for 2016 honors women who have shaped America's history and its future to form a more perfect union.
From championing basic human rights to ensuring access and equal opportunity for all Americans, women have led the way in establishing a stronger and more democratic country.
The diversity of their experiences demonstrates both the challenges and the opportunities for  women and is essential in the continuing work of forming a more perfect union.
The award, Career Mastered: Women's Leadership in Action, celebrates history by taking a look inside successful women's careers to enhance the process of women inspiring and encouraging one another.  Women who have mastered their careers reveal exceptional stories and provide an expansive vision about women's success.
Nominations and sponsorships are being accepted. For more information please go to www.careermastered.com or call 866-601-4441.
About Linwick & Associates, LLC.
Linwick & Associates, LLC is a global human resources consultant firm with offices in Metropolitan Detroit and Charlotte, North Carolina.  A leading provider of career development,  learning & organizational effectiveness and HR strategy.  The mission of the company is to create organizational value through people. Dr. Lisa Wicker, the organization's founder is internationally recognized as an HR expert and career strategist. She has been recognized by Uptown Professional Magazine as a 100 Top Executives in America, the Detroit News recognized her as Ace Recruiter and one of the most successful women in Detroit. Corp! Magazine recognized her as a Top Diversity Leader in Michigan and The Michigan Chronicle dubbed her as a Trailblazer.