By Lisa Nichols
For Diamond Brown, creating effective, natural skincare products isn't just a business. It's a way to touch people's lives.
Her enthusiasm to continue growing and developing her skincare lines is rooted in her desire to make a difference in the world–and specifically to support those who are facing a cancer diagnosis. She wants to support people who are going through so much physically, and she uses her business to do just that. In fact, this purpose guided her decision to donate 10% of her company's proceeds to cancer survivors.
She knows from experience how difficult it is to see a loved one walk through chemo treatments, doctor appointments, the physical and emotional pain, and she wants to bring joy to others who are walking through similar health challenges.
Diamond's Body Care was founded out of her own quest to find products that would help her husband with the tightness and inflammation of his skin, due to chemotherapy. Frustrated that they could not find skincare products that kept his skin hydrated, Diamond began experimenting. She researched, studied, and developed a formula that worked for her husband in her home lab, and she started to share small amounts of it with other cancer patients in the waiting rooms of countless medical appointments and treatments.
Unfortunately, Diamond's husband lost his fight to cancer, and she stopped making products for a while. But she soon started receiving requests from friends and acquaintances who had benefited from the products she had gifted them. As the demand for her skincare products grew, Diamond decided to return to her lab.
Today, she has 2 skincare lines, a professional lab, offices and a showroom. Her men's skincare line is called Dapper Body Care, offering "masculine and sophisticated products for the modern man." Her goal is to normalize skincare for men by providing quality body butter, lotion, shea soap, and beard oil that changes the way men think about skincare.
Diamond's Body Care is her women's line, offering body butter, scrub, shea soap, and body oil with feminine fragrances and packaged in her favorite color – pink. If you're wondering which product she loves most, Diamond will tell you it's her botanical body oil, which is made with fresh flowers. Her favorite scent? Pink Hibiscus. "But my best seller is Island Breeze," a scent she says is reminiscent of Caribbean fruit.
Diamond says the reason she is building her body-care business is because she cares about people. She loves hearing from clients who tell her that her products have made a difference for their skin after going through chemo treatments, or that their eczema has improved by using her skincare.
"You feel as if, 'Wow, I'm impacting the world. I'm really doing something meaningful,'" she explained.
And that is why she's continuing to grow her business.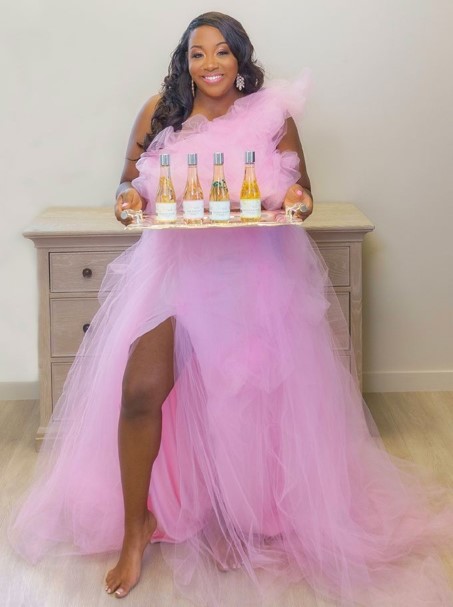 She wants to make a difference in the world, one skincare product at a time. Currently, that means setting up pop up shops for local events, offering wholesale products to barbershops and boutiques, and generating online sales from diamondsbodycare.com.
As she looks to the future, Diamond is excited about the opportunity to expand Diamond's Body Care and continuing to educate people, increasing their awareness of what they're putting on their skin. She's looking forward to partnering with estheticians and supplying them with quality products to use with their clients. She's also an advocate for small businesses and enjoys sharing her knowledge with other women entrepreneurs through her "Beauty-preneurs Brunch."
Just like her bright pink branding, Diamond's friendly and outgoing personality stands out boldly. She is committed to creating natural products from quality ingredients to improve the hydration and health of her client's skin. And most of all, she cares about people.
Her natural, plant-based skincare products are just one way she shows that care.
Lisa Nichols believes everyone deserves an opportunity to build a career they don't want to escape from. She offers workshops and coaching for leaders wanting to build empowered teams, support their people and expand equity. Connect with her on lisanicholsconsulting.com or linkedin.com/in/lisacnichols.