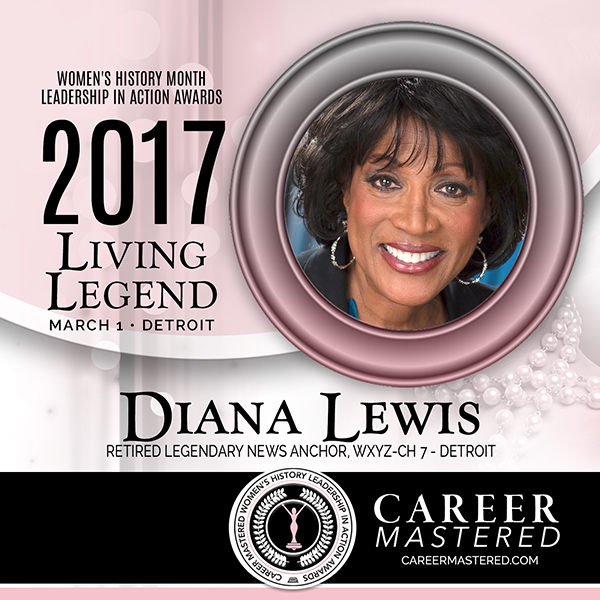 31 Jan

3rd Annual Michigan Women's History Month Career Mastered Class of 2017 Announced

• Retired Legendary News Anchor Diana Lewis Named Women's History Month "Living Legend." • Outstanding Women Achievers in Competitive Fields Selected. • Honorees are Exceptional Role Models of What a Woman Can Do.

Detroit, MI, January 26, 2017 (Newswire.com) – ​​​​​​​​​​​The Career Mastered Awards Class of 2017 will be honored during the 3rd Annual Michigan Women's History Month Leadership in Action Awards Dinner on Wednesday, March 1, 2017 at The Henry Autograph Collection Hotel in Dearborn, Michigan. Retired Legendary News Anchor Diana Lewis has been named Women's History Month Career Mastered "Living Legend." The Awards Dinner is the highlight of Michigan's Women's History Month calendar, routinely attracting a sellout crowd.

Linwick & Associates, LLC in conjunction with Honorary Co-Chairs Florine Mark, President & CEO of The WW Group, Inc. and Pam Rodgers, Owner and President, Rodgers Chevrolet, and sponsors will honor the achievements of women who have made a compelling mark on business. Honorees represent powerful women across diverse industries and disciplines. These women leaders are Trailblazers who have mastered their work and have learned the necessary steps to move ahead and build successful careers. The honorees are exceptionally strong role models of what a woman can do.

Michigan Class of 2017 Honorees:

Leadership In Action Awards
Tati Amare, Host, WDIV Channel 4, Live in the D
Adrienne Bennett, Master Plumber & CEO Benkari Mechanical LLC
Jean Bosworth, SVP/Private Client Advisor, U.S. Trust, Bank of America
Denise Brooks Williams, Pres. & CEO, Henry Ford Wyandotte Hospital
Judy Brunson, Head of Operations, Mercedes Benz Res., Daimler AG
Stephanie Chang, Representative, Michigan House of Representatives
Olivia Ciliberti, Chief Human Resources Officer, Oakland University
Ellyn Davidson, President, Brogan & Partners
Kim Adams House, Head of Jeep Advertising, Fiat Chrysler Automotive (FCA)
Ola Ivery, Educator, First Lady Wayne County Community College District (WCCCD)
Anika Jackson, President, Jackson Land Holding Co., LLC
Pranadhi Koradia, Chief Operating Officer, Transphere, Inc.
Gloria Lara, President Michigan Hispanic Chamber of Commerce
Glenda Lewis, News Anchor, WXYZ TV Channel 7
Dr. Tonya Matthews, President & CEO, Michigan Science Center
Kathy Moritz, Managing Partner, New York Life Insurance
Danielle North, President, CEO & Founder, EdReform Partners
Mary Palkovich, VP Energy Delivery, Consumers Energy
Michelle Robinson, Pres. & CEO, Michigan Minority Supplier Development Council (MMSDC)
Sheila Sarver, Group Vice President, Yanfeng Global Automotive Interior
Donna Stallings, City Council Member, Lathrup Village
Olga Stella, Executive Director, Detroit Creative Corridor Center
Tosha Tabron, Vice President, Relationship Manager, JP Morgan Chase
Gwen Thomas, President, CEO & Founder, Gwen Thomas PR
Arvis Williams, Global VP Quality & Continuous Improvement, Dura Automotive Systems
Leadership Distinction Awards
Living Legend Award – Diana Lewis, News Anchor (Retired), WXYZ TV Channel 7
Trailblazer Award – Andrea Riley, Chief Marketing Officer, Ally Financial
Distinguished Leadership Award – Honorable Judge Denise Langford Morris, OaklandCounty
Game-Changer Award – Shamayim "Shu' Harris, Visionary, Avalon Village, Highland Park
About Career Mastered:
Career Mastered is growing global women's business collaborative. It is the only platform of its kind that combines women's history, leadership recognition awards, networking, talent access, and youth development to accelerate women's careers while making a positive difference and impact on the global business environment. The goal is to make a powerful difference in women's leadership aspirations while supporting future generations. Career Mastered presents the leading Women's History Month Awards in North Carolina and Michigan, honoring today's women leaders who are Game Changers, who take charge of their careers and their futures. The Award honors amazing women who have made a compelling mark on business and are exceptionally strong role models of what a woman can do. Founded in 2015 by Linwick & Associates, LLC. Career Mastered Awards celebrates and acknowledges the victories, challenges, and stories of the women who have helped to make our country what it is today. Proceeds are donated to Excel Village Center for Learning www.excelvillage.org.
About Linwick & Associates, LLC.:
Linwick & Associates, LLC is a global human resources consultant firm with offices in Metropolitan Detroit and Charlotte, NC. The mission of the company is to create organizational value through people. Its Founder, Dr. Lisa J. Wicker is internationally recognized as a leader in human resources management with more than 30 years' experience in organizational dynamics and change management across Fortune 500 Companies and Industries. She has been featured in Jet Magazine, recognized by the Detroit News as one of the most successful women in Detroit. Corp! Magazine recognized her as top Diversity Leader in Michigan, Black Enterprise recognized her as a leading Diversity Champion in America, The Michigan Chronicle dubbed her a Trailblazer and UPTOWN Professional Magazine named her one of America's top executives.
Media materials and contacts are online at www.careermasterd.com
Source: Linwick & Associates, LLC.