25 Sep

Lessons From The Top: Janice Bryant Howroyd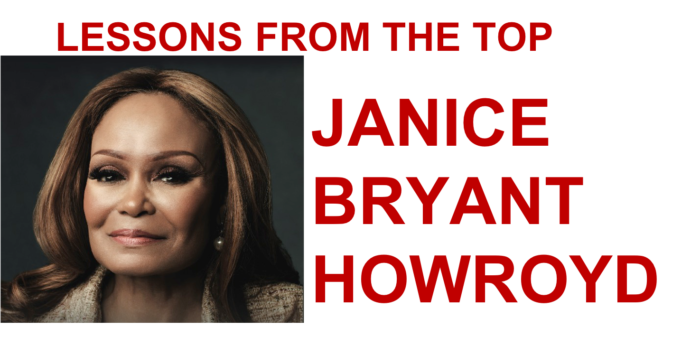 BY: Tisha L. Hammond
Many people assume that you've "arrived," especially long after "bossin' up" as America's first black woman to own a billion-dollar company. Let her tell it though and there are two notions that require immediate attention: 1) Janice Bryant Howroyd is not impressed by firsts, not even her own; and 2) There's always a next…another level up.
So, as certainly as the sun rises and moves westward to light up the sky, Janice Bryant Howroyd, too, has graciously accepted her rise from humble beginnings in Tarboro, NC, to a Beverly Hills, CA business address that was genuinely a rug store turned into the star-studded balcony of the global marketplace. Clearly, her mantra, "Never compromise who you are personally to become what you wish to be professionally," has profoundly and positively impacted the applicants, employees and clients that her enterprise services. For certain, she is flying high on major lists that track her wealth status as the fierce and fabulous Founder and Chief Executive Officer of the ActOne Group. The North Carolina native is worth $420 million and oversees 17,000 clients and 2,600 employees in 19 countries. She also owns 36 real estate properties. Still, she graces us with a bird's eye view of some of the knowledge she's gleaned since launching her award-winning, ever-growing Talent and Talent Technology enterprise in 1978.


JBH, as she is affectionately known, is in some ways an open book. Her life's story embodies the spirit of a millennial, heart of a lioness, ethics of her resourceful parents, John and Elretha K. Bryant, the benevolence of her Creator and the skill of a futurist. You can absolutely expect more "nexts" from Janice Bryant Howroyd. She's in no rush to resign her crown and fade quietly into the hallows of history. In as much as she's forged an incredible path, she's deliberately left audible and visible footprints to follow. Learn all she knows at www.askjbh.com.
Tisha L. Hammond is known as "The Small Business Cheerleader" and holds a degree in Criminal Justice/Business from Coppin State University (HBCU). Her "Pep Talk" small business advice column is featured in Entrepreneur& Executive Magazine. She currently resides and operates a business consulting company in Farmington Hills, MI.