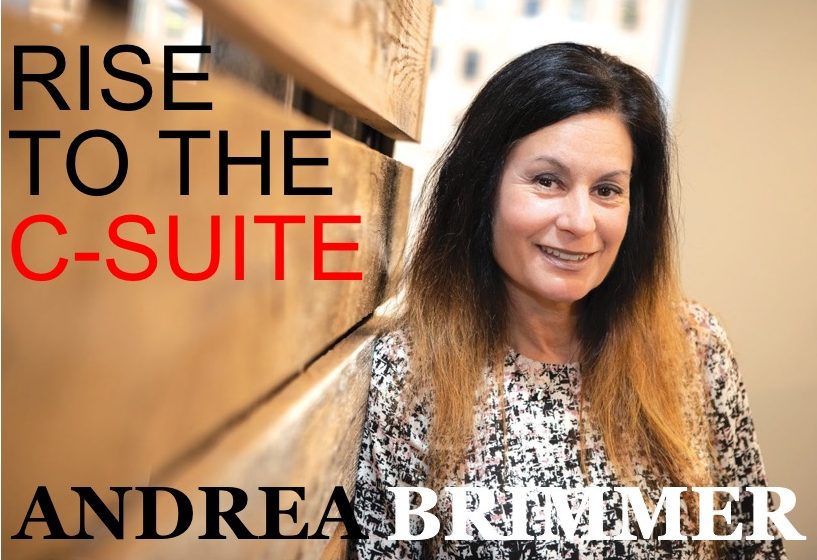 29 Oct

Andrea Brimmer: Rise to the C-Suite
Thriving in the C-Suite requires mastering a different set of skills.
BY: Tisha L. Hammond
Photo: Daniel Harris
That rush of adrenaline in the moment of nailing a real-life buzzer beater is exhilarating. Whether taking it to the field, or sitting on the sidelines, teams and fans alike are drawn in when an attacking player tries to score a goal. Much like the sports season, which culminates in an appearance in the championship tournament, the climb to the C-Suite comes with intense competition from challengers with advanced skill sets.
Whether appearing before adoring fans at the World Cup, or turning the knob on the door of your corner suite, each act involves "scoring" when opportunity presents itself. Each demands discipline, savvy and hustle —grit. There's something spartan, yet beautiful, about a woman who is aware of both the art and science of her career field. Former Michigan State University Varsity Soccer star, Andrea Brimmer, has possession of the ball and is charging toward the goal.
In today's lineup, Ally Financial's Marketing, and PR team is led by Andrea Brimmer, Chief Marketing & PR Officer. Andrea's official responsibilities are to skillfully oversee the company's marketing and advertising strategies and ensure they support the overall objectives of the organization. She is also responsible for market research initiatives and brand management —to go for the win—with the consumer. Knowing that one chief cannot score the winning goals alone, she surrounds herself with a roster of teammates to help Ally crush its competition. Just as soccer is the world's most popular sport, Andrea Brimmer is widely considered one of the most valuable players of her corporate marketing league.
Her list of accolades is deep, but some recent highlights include: Financial Communication Society's Marketer of Year; Career Mastered Women's History Trailblazer Leadership Award; Automotive News 100 Leading Women and twice Forbes List of 50 Most Influential CMOs. While on her winning streak, Andrea creates time in her busy schedule devote her services to worthwhile causes, such as the MSU College of Communication Arts and Sciences; Auto News Leading Women; Forbes CMO Challenge Program; and Impact100 Detroit. This team leader steadily finds ways to influence gender equality and youth development in her field.
Her position requires immense attention to detail and emotion. This MVP is equipped, though, with game- winning characteristics: quick-wit tempered with introspective rationale; the ability to schedule emotions for a more convenient time; radical thinking blended with the need to lead by inclusion; and an insatiable appetite for data to steer Ally through its creative impulses.
Long known for mastering a male- dominated playing field, Andrea Brimmer hasn't allowed the grass to grow under her feet. She recognized early in her career that thriving in the C-Suite requires mastering a different set of skills. As a Class of 2017 Career Mastered Trailblazer Honoree, Andrea has fueled her C-Suite aspirations and offers this quick guide of winning strategies for setting career goals, crushing the game and finishing strong.
Preparation: Accept learning opportunities with enthusiasm. Regularly study the arts of communication, alternative dispute resolution and decision-making.
Team-building: Very few suite-lifers will say they climbed the ladder solo. Community and intentional, inclusive collaboration are major boosters.
Tact: Be humble, then be direct and candid! "Sugar and spice and everything nice" generally conflict with big ideas and decisions. For every challenge you present, offer a solution based on data/facts.
Coaching: Mentoring, whether given or received, should not be forced or neglected. Be cautious of appearances when you connect with a high-level mentor inside your company.
Andrea credits both her sports and corporate coaches and mentors with affirming her strengths. Although there should be sideline etiquette at work, some just don't play fair. Andrea also credits the rivals rooting against her rise to the C-Suite with helping her to finish strong.
Finishing strong and scoring big in the C-Suite takes tenacity. According to Andrea, career women, like athletes, ought to remove waste in order to be performance- ready when opportunity knocks, and even long after the last ball hits the back of the net. To increase your stamina, and shed dead weight as you rise to the suite-life, Andrea suggests eliminating these from your immediate work environment: ego, anger, regret, self-doubt, blame and jealousy.
"Lose those," she says, "and your career load just got a lot lighter." Andrea is known for her candor and recognizes that even when carrying a lighter load, striking that perfect work-life balance is difficult. "Frankly," Andrea says, "it's exhausting strategizing the 'how to's' of it all." Take it from her, for simplicity's sake, on your toughest days, rather than succumbing to burnout, try avoiding burnout. When you love what you do its hard to get burned out.. Every day is exciting to me. But my pace is exhausting, and I am a big believer in strong body, strong mind. So my workouts and running are a must in keeping me physically and mentally fit to push through. Andrea has witnessed many "not for the faint of heart" moments in her 30+ year advertising, marketing and PR climb. Today, Andrea Brimmer is unapologetically and relentlessly seeking great. "Good is the enemy of great. I am always seeking great." Like Ally, Andrea is, "Doing it right!" She sums up her career- to-date in one bold headline: "Never drink your own kool-aide. Stay real. "
What will your career's headline be?