vanguard (noun)
van·guard \ van-gärd
1: the forefront of an action or movement
2: the troops moving at the head of an army Merriam-Webster dictionary
August 2020 marked the one-hundredth anniversary of the Nineteenth Amendment, a landmark legislation that granted American women the right to vote. The women of the U.S. suffragist movement have been well documented in our mainstream historical narratives. But the stories of Black women who persisted and resisted in the civil rights and suffragist movements have often gone partially untold, or not told at all.
In September 2020, Martha S. Jones, the Society of Black Alumni Presidential Professor and Professor of History at Johns Hopkins University, published "Vanguard: How Black Women Broke Barriers, Won the Vote and Insisted on Equality for All," an expansive exploration of Black women's separate journey to the right to vote. That right was formally demanded by Black women in 1848, was denied by the Nineteenth Amendment in 1920, and was not fulfilled until the passing of the 1965 Voting Rights Act.
Vanguard gathers up Black women's stories…recovering their art, their activism, their joy, and their troubles…help(ing) us know the worlds that Black women alone had created," Martha Jones asserts. And whether readers are history buffs or merely history-curious, "Vanguard" is a well-researched narrative built from the archives and memoirs, capturing iconic women like Ida B. Wells, Mary Church Terrell, Pauli Murray, and Fannie Lou Hamer. Jones expounds on the African American history which sits right below the surface of every archive, bringing to life organizations like The National Association of Colored Women and Alpha Suffrage Movement—founded in 1913 to inspire a "reconceptualization of the role of African American women in America," when the National American Woman Suffrage Association denied membership to Black women.
Jones looks with specificity at the roles of Sarah Mapps Douglass and Susan Paul in Northeastern early abolitionist societies, and how their work went on to launch suffrage efforts. Although Douglass and Paul were denied leadership roles, they were undeterred, continuing to work alongside and outside exclusionary abolitionist societies. Black women who did not lose their lives in these fights against chattel slavery laws, lost their hard-won standing in society when they refused to remain silent.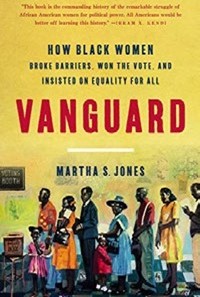 In "Vanguard," we also re-meet Joe Ella Moore, a Mississippian who faced poll taxes, understanding clauses, intimidation, and violence in her pursuit of voter registration. When Moore learned of President Johnson signing the 1965 Voting Rights Act, she immediately reported to the Magnolia Motel in Prentis, Mississippi, successfully registering to vote. It was her eighth attempt. Within one month, Mississippi's Black voter registration increased by one hundred twenty percent. And the Mississippi Freedom Democratic Party put the Democratic Party and the nation on notice: systemic exclusion of Black voters and representation would not be tolerated.
Timing is everything, and "Vanguard" comes when we have a new generation of Black women leading people-powered movements—LaTosha Brown, Co-founder of Black Voters Matter; Nse Ufot, CEO of New Georgia Project; Stacey Abrams, Founder of Fair Fight. Their names are currently synonymous with spearheading record voter turn-out (higher than it's been in one hundred twenty years) in the 2020 presidential election. These women or others have followed a long history of community activists who paved paths and broke barriers for the opportunities we live in today. In them, we saw the power of the ballot move across Southern, Northern and Western regions, waking up this nation, once again, to the unstoppable power of Black women in collective action.
America's visible divide of identity over the last four years has revealed the deep fractures of our failed beginning. Explorers and politicians have been credited for founding this land and the republic on which it stands. However, Indigenous peoples can assert the land was never lost, and Black people can attest to an equal nation never being fully founded. People of Color, women, and people who identify as LGBTQIAP also face many of the same, or different, burdens of marginalization in this country.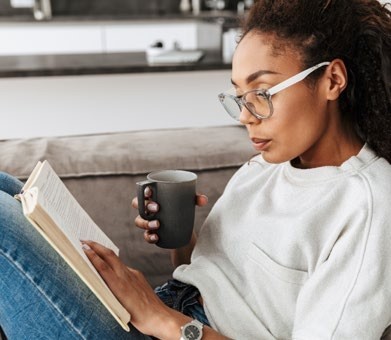 The way forward is rarely new ground but following the path of way-makers who've come before us. That's exactly what "Vanguard: How Black Women Broke Barriers, Won the Vote and Insisted on Equality for All" does in setting the record straight on the original resistance fighters against racism, sexism, and voter suppression to ensure human rights for all Americans.
We must ensure that #TrustBlackWomen and #BlackWomenLead are not merely hashtags or passing catch phrases, but a resounding call-to-action for liberation—true in 1920, in 2020, and beyond.
Vanguard (proper noun)
van·guard \ van-gärd
Black women: original feminist and antiracist who built a movement on these core principles Black women: raised the bar highest amongst all allies to work in coalition for equality and just for all.
Tiffany C. Courtney is a freelance writer and storyteller who lives in Philadelphia with her wife and child.