By Kay Marie
T he power of being confident is deeply rooted in being self-aware. Self-awareness brings growth and growth brings opportunities and change. Your environment and experiences, whether negative or positive, do not make you who you are or determine the direction your life will go. The choice lies within to either become motivated or remain stagnant. The end goal is to overcome any fear that is orbiting around you and to take control of it.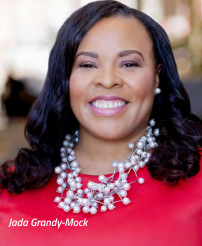 Jada Grandy-Mock, MBA became self-aware early on in her childhood. She realized that not only was it important to become educated, but it was also important to become financially educated. Jada was the first in her family to attend college. She attended Robert Morris University and furthered her education at The Wharton School and ABA Stonier Graduate School of Banking. She chose a career in banking to help people overcome poverty and to break the chain of generational curses. Grandy-Mock currently is the chief community impact banking officer with Fifth Third Bank.
Grandy-Mock has over 20 years of experience in financial services and banking. She was featured in a segment called For The Culture with WCNC-TV in Charlotte, North Carlina, and she mentioned that growing up she saw many families struggle not because of the lack of will, but due to the lack of resources and access to products and services. She was determined to be the change her community needed so that everyone could have access to affordable financial services, and economic opportunities.
She has made her mark and presence known in corporate America. As a professional leader, Grandy-Mock continues to advocate, create, and provide solutions across the financial world. Her hope is that with all the opportunities being created, given, and sacrifices being made that you deliver… that is, deliver quality, deliver efficiency. In a small clip from the Generational view, Grandy-Mock said, "When we're getting out front to be that advocate who opens the doors to social capital, to make a seat and create space for you at the table, to create a table for you to be able to deliver, don't disappoint." In that same clip she goes on to say," I'm also a firm believer that as I climb if I'm not pulling anybody with me, I'm just standing still. Progress of the whole is better than the progress of the one." With a humble spirit, passion, hard work, and dedication, Grandy[1]Mock was able to maximize the resources around her and hopes others strive to do the same. By sticking to the course, being and showing up for herself, she has impacted and influenced many lives.
The mission is inclusion within any community, organization, or workplace. Where there are flaws within that mission, certain strategies and plans are put into place to correct those said flaws. There is room for improvement and change in any role.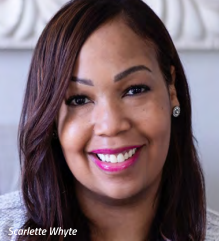 Scarlette Whyte carries out that same mission in her current role. Whyte is the Head of Diversity, Equity, and Inclusion Strategy at media conglomerate, Warner Bros. Discovery. She leads DEI efforts for CNN and Turner Sports. She provides a voice and prioritizes development within the workplace. Some of her specialties include diversity and inclusion, talent development, breaking news, broadcast production, and writing.
Before returning to Warner media, Whyte spent years as a TV news producer and journalist. Whyte oversaw the professional development of producers and on-air talent at CBS News Washington DC Bureau. She has worn and executed many hats in her field and she continues to dominate her current position. She is continuously sought after for her expertise in television news.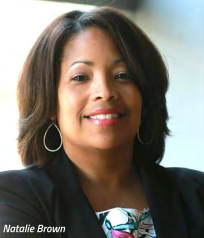 Natalie Brown is the Senior Director of Corporate Citizenship at Ally. As an executive, Brown is responsible for leading a team that manages Ally's charitable giving and community affairs initiatives. She has over 20 years of experience in many large companies where she brought great change to them. Brown strives for and pushes the importance of representation today.. She spearheaded the launch of 'Moguls in the Making,' an innovative entrepreneurship pitch competition helping to prepare and build students from HBCUs for the next generation of diverse business leadership.
According to Ally Financial, 'Moguls in the Making' was born from the need to act-to put our beliefs into practice by creating a program to tackle the issue of economic mobility head[1]on. Brown drives results and provides solutions. She is instrumental within her community both personally and professionally. Brown is intent on providing resources for the underrepresented.
What is there to regret? Speak your truth, with conviction and confidence. Be the author, and artist of your own life. You write your own stories and paint your life colorful with great expression… and do more of that, unapologetically. Kay Marie is a mother, creative, and poet. She owns Konqher LLC where she hopes to inspire people to stay true to themselves and not conform to society's standards. She also owns Dark Matter Cosmetics LLC, a brand that strives for inclusivity