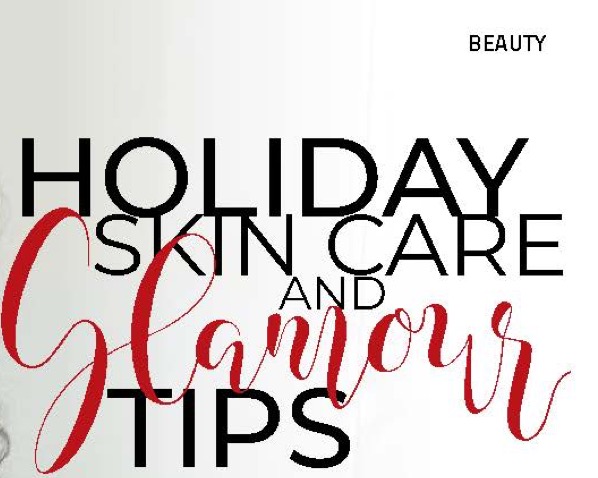 07 Jan

Holiday Skin Care & Glamour Tips

BY: Rechelle Andrews

Ladies, is your skin ready for the winter? As the weather changes, so may your skincare routine. As we move into the holiday season, the colder temperatures typically dry out skin.

Therefore, it is important to have a skin care routine that includes the following:
Cleanser – Consider cleansing oils or non- foaming cleansers
Toner – Alcohol-free or essence toners to boost
Face Oils – This may be intimidating for some. But, trust As you age, it is imperative to maintain radiance. I recommend applying facial oils at least at night to nourish the skin while you sleep. Consider 100% Argan or Camellia oils.
Moisturizer – You heard it right! Use of an oil and moisturizer will only have you looking like a shiny penny for a few seconds. In the colder temps, your skin will thank you.
The right combination of an oil and oil-free moisturizer can also serve as a nice primer to applying makeup. If using an oil sounds strange, consider only using the oil on areas that tend to appear more dry or show signs of peeling. For me, that is my T-zone, mostly around my nose.
Finally, once a week, treat yourself to a relaxing mini- spa before bed. Grab your favorite beverage, light the spa scented candle, and try a facial mask. These masks are soaked with serums to replenish hydration that is lost during the week—and they happen to be quite relaxing.
Now that your skin is clean and moisturized, let's prepare for that upcoming holiday party. If you're not one to wear makeup as much, consider hiring a makeup artist to give you that VIP experience.
If you opt to do it yourself, try these tips for a simple, but glamorous holiday look:
The classic holiday red lip. – A red lip can be tricky, but it's always a hit. Remember that "red" comes in many shades and all reds are not created equal. Try on a few at your local full- service beauty store. Once you've found the right one, pair it with a dewy or satin finish foundation, a nice, dual- purpose blush (with a little color and highlight), and a soft, smoky eye. Now, you're holiday ready!
Holiday pop of color.– If you're more adventurous, try pops of holiday colors on the eyes or lips. Typically, if the lips are bold, the eyes should be neutral, and vice versa. But, go for it! Try an ombre look with a bold lip color, toned down by applying vibrant color first to the inner corners and perimeter. Then, add a nude and/or gloss— even glitter—to the center of the lips. Don't forget your brows! Add liner and lashes, and there you have it.
For more makeup tips, schedule a free consultation with Inspire Beautiful.
Rechelle Andrews understands firsthand that beauty is such an important part of a woman's world. Having studied makeup with a pure intent to understand proper skin care and product application, Rechelle seeks to give every client a youthful appearance and the confidence that she needs to take on the world. As an "Inspirational Makeup Artist," she strives to inspire women to be (and stay) beautiful, providing exceptional experiences and service and to help them recognize the reflection of beauty they embody from within.