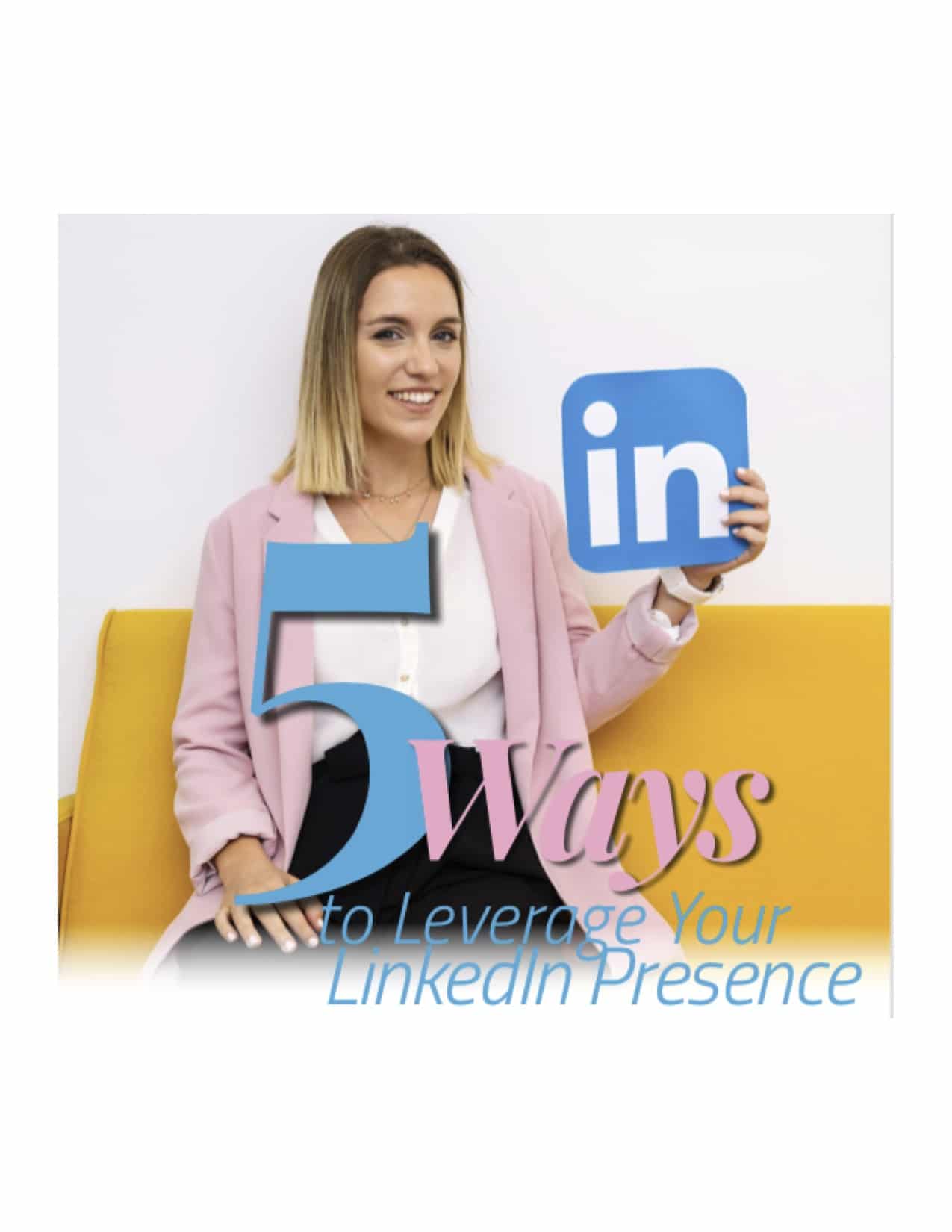 27 Apr

5 Ways to Leverage Your Linkedin Presence

By: Lindsey McMillion Stemann

With more than two people joining LinkedIn's global network every second, ensuring that you are using it correctly is imperative
for any success you hope to garner from the tool. Each of these recommendations is equally important as the next. In no particular order, here are five easy ways to ensure you don't get left out of LinkedIn! 

Tell Your Story… Professionally 

In a professional interview, you put your best foot forward. LinkedIn is no different. A few best practices include uploading an approachable, recent headshot of yourself (no selfies). Write in first person and include a way for people to reach you outside of LinkedIn. With nearly two dozen sections, take the time to build out each relevant section of your profile. This increases your opportunity to be found when someone is looking for a professional like you or a company like yours. Just like Google loves keywords, LinkedIn does, too. Remember, there is no draft version of your profile, no spellcheck and no formatting. Use a Word document to catch potential misspellings and grammatical errors before you post. 

Get More Responses 

If you knew that you had an
85 percent chance of someone accepting your invitation when you personalize it, would you take the ten seconds to include a note before sending your invitation? We all receive invitations to connect from people we don't know. It's especially frustrating when that invitation doesn't include
a personalized note to help you understand why you might want to accept the sender's invitation. Unfortunately, not every button you click within LinkedIn will allow you to include a custom note with your invitation. The trick to guarantee yourself the opportunity to include a note is
to only send an invitation within an individual's profile through the blue connect button on LinkedIn. com. 

Community Involvement vs. Work Expereince

Whether you are actively engaged on a nonprofit board, or seeking volunteer opportunities within
your community, be sure to include this relevant experience in your LinkedIn profile in the correct section: Volunteer Experience. A best practice when updating and building your profile is to include your unpaid, philanthropic, donated time to the volunteer section. When you add it to the Work Experience section, it looks like you were paid, and you will be associated with the organization as an employee. 

Your Engagement On Linkedin is Publicly Visible 

Many LinkedIn members are unaware of this critical aspect
of the platform that could be inhibiting you from professional opportunities. Any post you engage with on LinkedIn is publicly visible to other LinkedIn members, even when you are not connected with them. Remember, LinkedIn is a professional platform. While there will always be people who use it inappropriately, be mindful and selective of who and what you engage with on the platform because, ultimately, it reflects you. 

Your Company is a Page

Thankfully this "LinkedIn no-no" is occurring less frequently as more people take time to learn the right way to set up an individual and company presence on LinkedIn. First, your LinkedIn profile is for you, the human, the individual. Second, your company should be represented through a LinkedIn page, not a profile. Link your personal profile to the company page and employees who work for you can do the same. If you accidentally create a profile to represent your organization, create a company page and shut down the profile. Improperly presenting your company is not only a faux pa, but you risk looking like an amateur. d 

Lindsey McMillion Stemann, Principal of McMillion Consulting, is a prospecting trainer, speaker and writer. Through LinkedIn, she believes in the power of connecting with purpose and that teaching should be practical for learning to be actionable. For speaking opportunities, group workshops or individual training, contact herat connect@mcmillionconsulting.com.