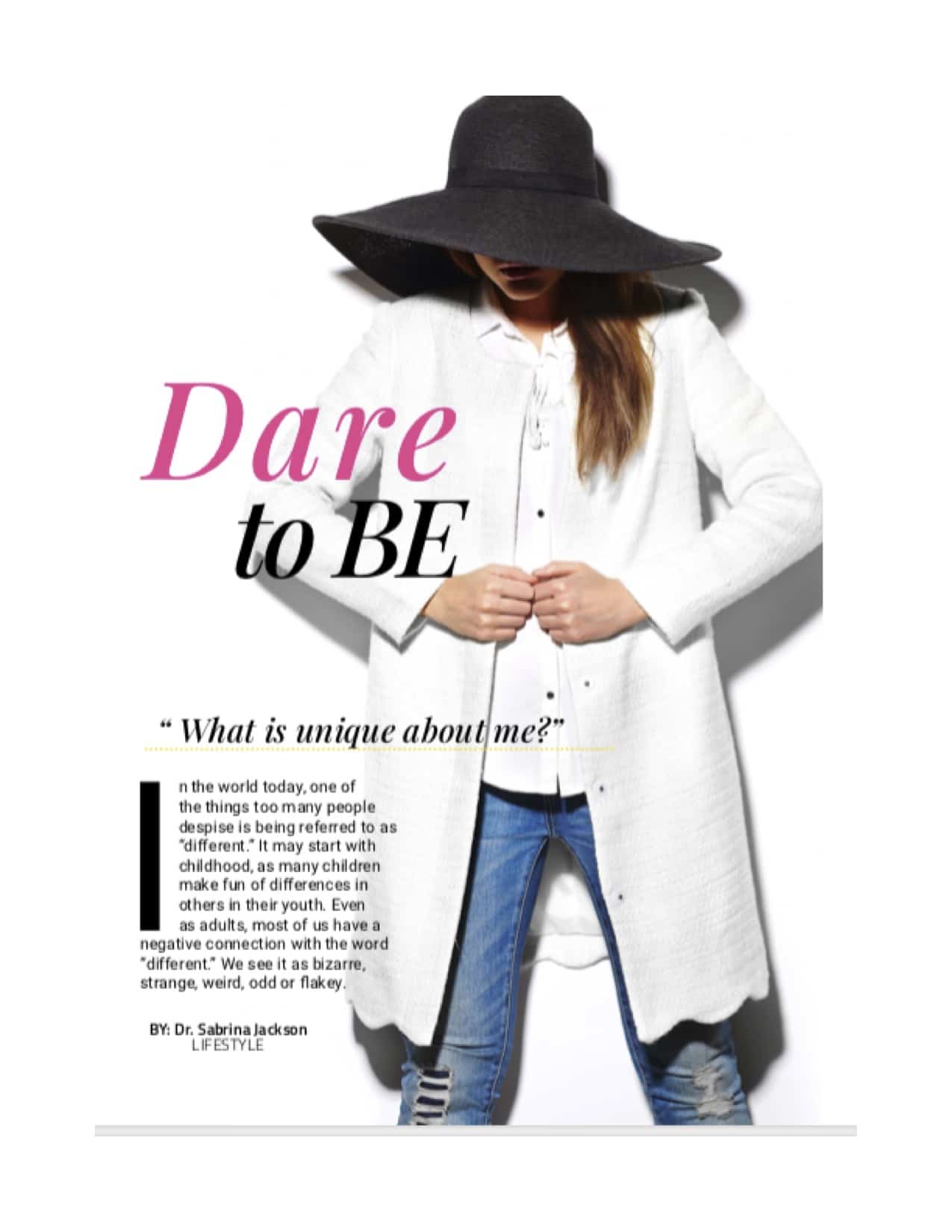 28 Apr

Dare to Be You

BY: DR. SABRINA JACKSON

" What is unique about me?"
In the world today, one of the things too many people despise is being referred to as "different." It may start with childhood, as many children make fun of differences in others in their youth. Even
as adults, most of us have a negative connection with the word "different." We see it as bizarre, strange, weird, odd, or flakey.
However, being different is not a negative thing. It's a God thing! God is so amazing that difference is divinely built into every one. We each have unique fingerprints, toe prints, retinal capillary, tongue print, and DNA. The differences that we each possess have a purpose in the world.
In order to make the shift necessary to dare to be different, you must do seven specific things:
1. Discover all the unique things about yourself. Ask the people closest to you to answer the question, 'What is unique about me?" This is powerful because we oftentimes don't see ourselves as others wee us.
2. Create a new language about what being different is and what it looks like. Look at being different as being distinct, extraordinary, rare, special, and unique. Create daily affirmations and "I Am" statements that celebrate your differences.
3. Embrace your differences. Own them. Be bold in them. Study others who stand tall in their differences. There are so many people who have embraced their difference and, in turn, have made a difference. You can, too! Take Celestine Tate-Harrington, for example. She was born with no arms or legs. In 1976, she gained national attention when she changed her baby's diaper in court with her mouth. She went on to learn how to play the keyboard with her mouth. She played on the Atlantic City Boardwalk and died a wealthy woman by developing her gift and using her key differences.
4. Understand that being different can be uncomfortable. Taking the leap to stand out requires you to operate in unchartered territory. No one can do what you do quite the way you do it.
5. Surround yourself with others who embrace their differences. Talk to and learn from others who know what it means to release their uniqueness to the world.
6. Accept that naysayers are always present. There will always be people who will call negative attention to your uniqueness. Use those moments to teach, not retaliate. I am on TV regularly, and I have received both positive and negative comments. One viewer sent a message via my website stating, "What is that on your head? It looks like a used mop!" My response was, "Thank you so much for the question. It is called Sister Locs as my hair grows out of the follicle in a tight curl. However, I do realize that some may not like it and even think it is ugly. Again, thank you for the question!" Just because someone doesn't like my differences doesn't mean I stop being who I am!
7. Deliver the difference that you have discovered and developed. Now that you have fully embraced your uniqueness, show it to the world— unapologetically and consistently. Challenge yourself to do something to shine a light on the difference. This will require you to take a risk, be bold, and be brave.
You were created to be different, unique, and extraordinary. So, dare to be you! Go forth and shine bright like a diamond! d
Native Detroiter, Dr. Sabrina Jackson realized early on that she had the gift of speaking by consistently getting in trouble for talking in school. She has been resilient in her pursuit to reach her destiny. After being a victim of several tragedies, that has only inspired her to help other people understand themselves.
She received her Master's Degree at age 23. She went on to work at Wayne county before leaving to open up her own private practice. She has been an entrepreneur since the mid-'90s. She has a relentless approach to changing the world one person at a time.