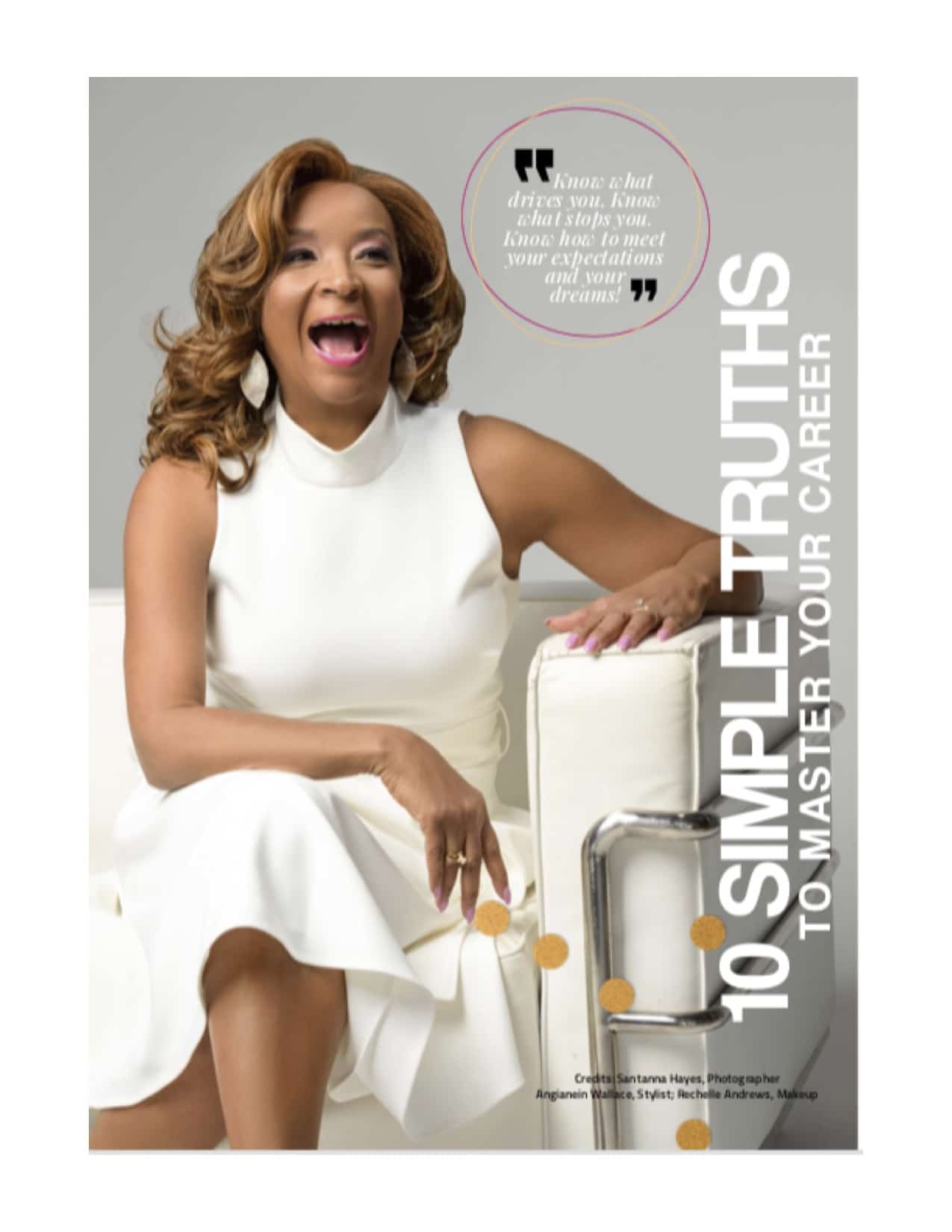 28 Apr

Dr Lisa Wicker Feature

BY: Tisha Hammond


Dr. Lisa Wicker is to career development what the Fairy Godmother is to Cinderella. She is the supporting cast member who embodies hope, access, wisdom, and encouragement for you to participate in your own success.

With her exposure to leaders within business communities across Corporate America and far beyond our borders, she has inspired women to gain the confidence to climb the ladder so many find themselves stuck on.

With her exposure to leaders within business communities across Corporate America and far beyond our borders, she has inspired women to gain the confidence to climb the ladder so many find themselves stuck on. Lisa sharpened her confidence as an observant daughter in Mississippi. Under the tutelage of her mother, the late LaVerne Gardner Lindsay Stewart, Lisa learned that becoming a woman of class was a matter of choice. Over

the course of her career, Lisa chose to polish other pearls of wisdom to refine herself, and to create an inviting community of diverse teams who were strong in her weakest areas. It's a good thing that her time spent collaborating in philanthropic spaces, Forbes 100 companies, Human Resources (HR) consulting, and publication industries have left Dr. Lisa Wicker with plenty of fairy dust to sprinkle upon others.

The influential and iconic Lisa Wicker is equipped with something more powerful than a magic wand. She
has harnessed the power to summon community to action. Lisa understands the value of her southern roots and the community that rallied around one another in the 1960's Mississippi. She understands that her purse is not her worth and that human capital is golden. Where others allow detours to block their personal and professional progress, Lisa knows that giving up is not an option. Oftentimes, her detours are planned as she accounts, in advance, for repairs and maintenance needs that arise in working with trained, qualified, and reliable teams.

You may be impressed at the range of teams that Dr. Lisa Wicker has led. She may be most known for her HR Executive Leadership at General Motors, Chrysler, MGM Grand Detroit, and Lowe's Home Improvement. Her proving grounds were Michigan State University (BA, Labor Industrial Relations), Central Michigan University (MA, Business Management), and California Coast University (Ph.D., Management-Human Resources). To that list, add her attendance in Executive Leadership and Global Studies at IMD Business School in Switzerland. A lifelong learner, Dr. Wicker enjoyed a season
as an Adjunct Professor at the Wayne State University School of Business. Then, there's the fact that she founded and successfully sold "101 Best and Brightest Companies to Work For." She has celebrated her career accomplishments with the support of her sisterhood, Alpha Kappa Alpha (AKA) Sorority, Inc.

Today, Lisa leads her team at Linwick & Associates, LLC (LWA), a global HR firm that is dedicated to creating organizational value through people. The LWA platform includes Excel Village, Career Mastered Magazine and the prestigious Career Mastered Diversity Summit & Women's Leadership Awards.

Outreach and philanthropy are top priorities for Dr. Wicker. She is a servant leader, in and out of the C-suite. She has generously given of her time, treasures and talents to Alternatives for Girls (Mentor), Excel Village (Board Chair), STOPit (Board Advisor), Stillman College (Board of Trustees) and the White House Steering Committee on Historically Black Colleges & Universities (HBCU). In selecting when, where, and how to serve, Lisa reminds us that we are "more than enough." She suggests that we, "Look deep within and draw strength and pride from your value and your heritage."

She appears to do it all, right? Not quite. Don't forget that "community" that she has spent her entire
career building. Lisa's charismatic personality, coupled with her ability to win others over, is her glitter. She genuinely welcomes others into her space and along a path that helps all who sojourn save time and energy. In turn, they protect their mind, heart, soul, and career.

Lisa spreads these simple truths like fairy dust. Catch them if you can:

1. Lay aside individuality, when necessary. Team has no "I" in it. Although "I" alone can do much, "I" is limited by its weaknesses.

2. Practice citizenship. Be an active part of your community and workplace. Help advance it by your actions.

3. Be an inclusive and an "… and, yes" kind of communicator.

4. Listen to others the way in which you want to be heard. Master the moment by leaning in to listen, making eye contact, and focusing only on what you are hearing, not what you plan to say.

5. Exercise your limitations by stretching yourself.

6. "No" is a complete sentence. If heavy scheduling is sinking your team, lighten the load by tossing out non-essential tasks.

7. Create a distance between you and your excuses.

8. Worry is not a good solution.

9. Take charge of your health. Its root is "heal." A healthy workplace supports healing in other areas of your life.

10. Create a tradition with the people who you love.

If that wasn't enough glitter for you, she says, "Delegate yourself. A lot of people talk about what they are going to do, but rarely get around to making it happen."

Coming from Dr. Lisa Wicker, a woman with a handle on her care and a flurry of fairy dust, she inspires, "Know what drives you. Know what stops you. Know how to meet your expectations and your dreams! And when you dream, dream in great detail," she says. "Write the vision and, from time to time, allow others to edit it."

Keeping the "community" top of mind is how Dr. Lisa Wicker has maximized her output and created the classic, iconic, and powerful brand that we know today as Career Mastered. To her credit, Dr. Lisa Wicker is the author of:

The Winning Spirit: Building Employee Enthusiasm

Power Play! Discover the Secrets to Spirit-Winning Success

The Power Inside (a special 2-disc set that reveals what's holding you back)

She anticipates the release of her new book, Capacity, in 2021. See Dr. Lisa Wicker live on stage from March 18-20, 2 Learn more about Dr. Lisa Wicker, Excel Village, and the Career
Mastered community by visiting DrLisaWicker.com, ExcelVillage.org, or CareerMastered.com/membership.

Tisha L. Hammond, the Small Business CheerleaderTM, holds a degree in Criminal Justice/Business from Coppin State University (HBCU). She is a speaker, facilitator, and author at Ascent Small Business Promotion, LLC, in Farmington Hills, MI. Tisha is the also the President of and lead instructor at Ascent Preparatory Academy For EntrepreneursTM found

at www.tishahammond.com.

020, in Hilton Head, SC. Visit www.careermasteredsummitandawards. com for more information.