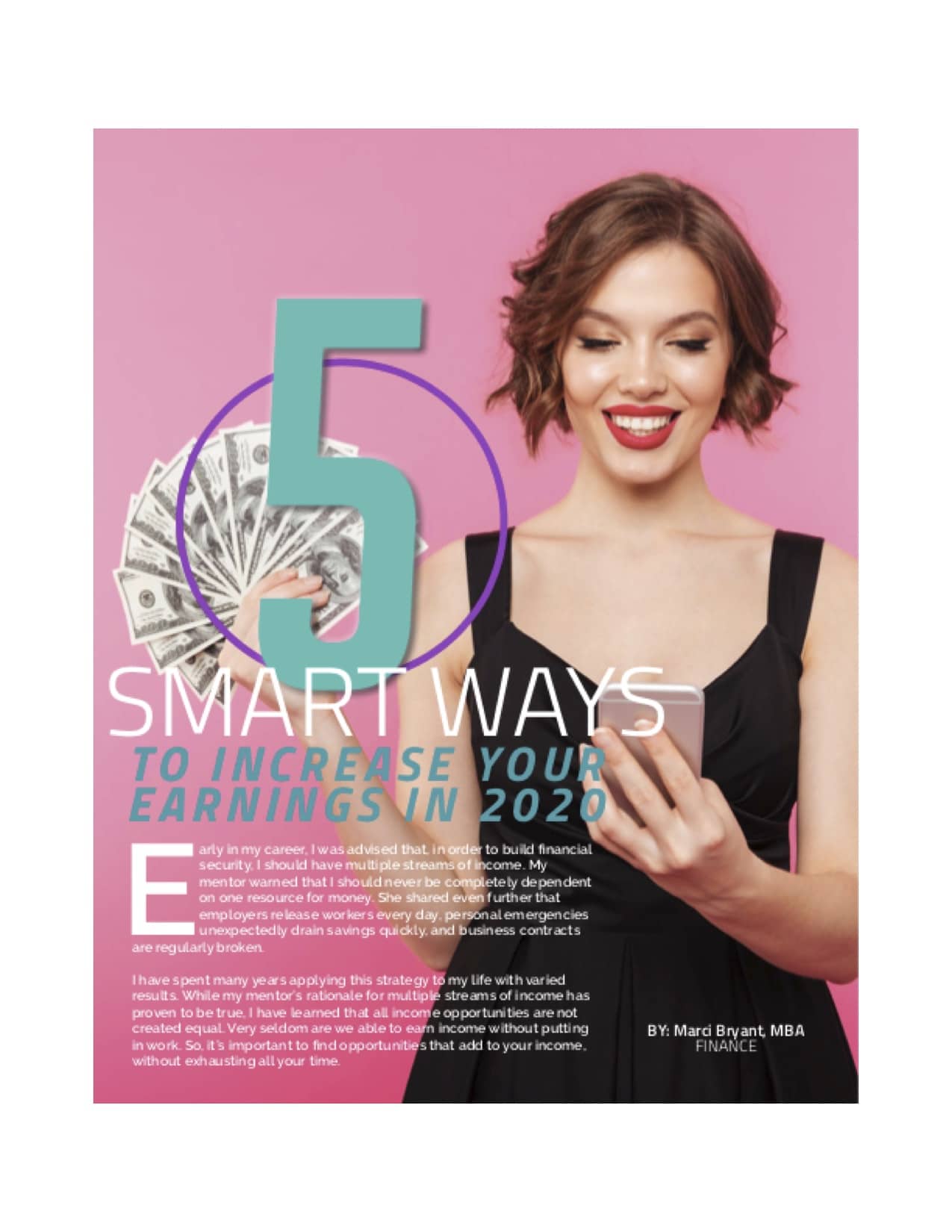 28 Apr

Steps to Save

BY: MARCI BRYANT

Before you settle on your next money-making venture, make sure it aligns with your career and personal goals. This avoids conflict with time management, commitment personal satisfaction, and earning potential. Currently, I have three streams of income: full-time employment, signature services, and affiliate marketing.

Here are five smart ways to increase your income using your professional skillset:

GET THE RECRUITER TO REVEAL HOW MUCH THEY CAN OFFER YOU. (ACTIVE)
In the initial contact for a new role, most recruiters ask, "What are your salary requirements?" Before you answer, counter that question with one of your own: "What is the max rate for this position?" If it's more than your projected income, you just scored some extra money. If it's less than your projected income, you can decline the opportunity and ask the recruiter to keep you in mind for positions that better fit your salary requirements. Keep in mind that higher salaries can cause a dip in other perks, such as paid time off. Make sure the trade-off is worth it for you. Be sure to research salaries on sites like Glassdoor and Monster to find out what people earn currently for that position
in different industries and geographic locations.

FIND AN EMPLOYER THAT OFFERS EQUITY. (ACTIVE)
This unique financial perk is primarily offered by newer companies as a way to offset limited capital while attracting highly qualified candidates. Many startup companies offer equity as part of your total compensation package. Before you agree on this method of compensation be sure to get the details on vesting and what happens to your equity if you and the employer part ways. AngelList is a great place to find early-stage startup companies that offer equity to employees.

CONSIDER WORKING REMOTELY. (ACTIVE)
If you have maxed out the earning potential in your career, the best alternative to maximize your income is to spend less by working remotely. Your salary should be comparable to working in the office; however, the savings of employment-related expenses turn into money you get to keep in your pocket. If you're doing the math right now, you can easily see how a telecommuting role can positively impact your monthly budget. Check out Flexjobs for remote work opportunities.

CREATE A SIGNATURE SERVICE BASED ON YOUR EXPERTISE. (PASSIVE)
Consider the biggest, most expensive problem you have solved in your professional career. Whatever it is, there is a strong possibility that your employers (previous and current) are not the only companies experiencing those challenges. Consider developing a formal, scalable, repeatable process that you can create once and implement with infinite companies that fit your client profile. Income strategist Jereshia Hawk does a great job helping people package their expertise into a profitable high-ticket signature service.

Bonus: You can recycle your service as courses, eBooks, virtual events, private consulting, and group coaching.

BECOME AN AFFILIATE. (PASSIVE) How common is it for you to share a great experience that you had with a company, product, service or software? How often does your recommendation turn into someone making a purchase? Now, imagine if you could make money every time that happens! Affiliate marketing makes that possible. Find your most rave-worthy products and services, create solution-based content (how-to, comparisons, etc.), embed the custom-generated referral link, and start making money in your sleep. Technology does all the tracking to connect the purchaser to you, and search engines help buying prospects find your content at just the right time. Check out Commission Junction for a list of companies that offer affiliate marketing.

The opportunities are limitless for you to increase your income in 2020!

Marci Bryant, MBA, is a corporate marketing and sales strategist, bestselling author, and CEO of www.marcibmarketing.com. Connect with her about marketing and sales on LinkedIn at www.linkedin.com/in/marcibmarketing and Instagram at @marcibmarketing.