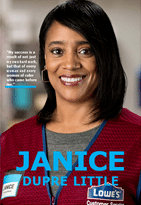 07 Oct

Leading with Power & Worth: Janice Dupre Little

BY: RAQUELLE "ROCKI" HARRIS

Female economic power is on track to outpace the economy of some of the biggest nations in the next five years, according to research findings in the Global Mega Trends to 2030 report. In addition, the report predicts an additional 100 million women will join the global labor force by 2030.

Women are taking on key executive roles within their organizations at a greater rate today than ever before. A 2019 survey by management consulting firm Korn Ferry found that 25% of key C-suite roles are now held by women, up two percentage points from 2018. Women are reaching new heights in their careers, and Janice Dupré Little, Lowe's executive vice president of human resources, is no exception.

Innovative leaders such as Dupré Little embody and model the power of their worth as they advance women's leadership and other causes. Dupré Little is responsible for the global human resources strategy, practices and operations that enable Lowe's to attract, motivate, develop and retain outstanding associates. She also oversees Lowe's corporate communications, community relations and event functions.

"My success is a result of not just my own work ethic but that of every woman and every woman of color who came before me," Dupré Little said. "I've had the great privilege of having strong mentors, both female and male, who taught me – and showed me – what it means to support women around me and women who are new to the workforce. Because of the example they provided, I'm committed to paying it forward so others have the chance to be mentored by someone who looks like them."

"Representation is critical," Dupré Little continued. "As we continue to occupy more seats at the table, we're able to voice our perspectives and contribute – adding value and making a real difference. That's hard to do when you're not in the room when key decisions are made. As women, we must understand and project our worth in everything we do, from sharing our opinion to supporting women at all stages of their careers." Dupré Little's nearly 20 years of experience includes serving as senior vice president, diversity and talent management of Lowe's and as the retailer's first chief diversity officer.

Before joining Lowe's, Dupré Little served as vice president, diversity and inclusion, chief diversity officer, for McKesson Corp. She also held several human resources leadership positions at Dell. Before transitioning into human resources, Dupré Little served in finance and accounting roles with Dell, IBM and Ernst & Young. She is an active member of the Executive Leadership Council, current board member of Disability:IN and an advisory board member for Linkage's Women in Leadership Institute. In 2016 and 2018, she was named one of Black Enterprise's Top Executives in Corporate Diversity. In 2020, Dupre' Little was named one of Career Mastered's Top Women in Diversity Who Lead By Example.

Dupré Little's ability to collaborate across the organization has helped make culture, diversity and inclusion an integral part of how the company delivers on its mission – to deliver the right home improvement products, with the best service and value, across every channel and community Lowe's serves. She's worked to weave it into business-as-usual operations, rather than something that happens alongside or as an afterthought to business strategy.

Commenting on Dupré Little's appointment in June, Marvin R. Ellison, Lowe's president and CEO, said, "We are pleased that as our executive vice president of human resources, Janice will bring her deep understanding of diversity and inclusion to this leadership role. Her experience working with leaders and maximizing human capital will make her a valuable contributor to our team. We look forward to leveraging her extensive expertise and ensuring Lowe's remains a workplace of choice for current and future leaders."

Since joining the retail giant in 2017, Dupré Little has continued to maintain a sharpened focus on culture, diversity and inclusion. Known for its customer-centered approach and commitment to supporting associates in their personal and professional goals, Lowe's was recognized as one of Forbes' Top Corporate Responders for their associate and community COVID-19 response efforts. In addition, Lowe's was named a Best Place to Work for Diversity Inclusion, recognized as a 2020 Best of the Decade in Supplier Diversity company and a Best Place to Work for LGBTQ Equality.

As the COVID-19 pandemic continued to affect the U.S. economy, Lowe's stepped up to support minority- and womenowned small business. Under Dupré Little's leadership, the company is delivering on its commitment announced in July to fund small businesses through $55 million in grants managed by Local Initiatives Support Corporation (LISC).

Lowe's employs more than 300,000 associates and, as of August 2020, has contributed over $500 million in coronavirus relief funding for full-time, part-time and seasonal workers through special bonuses and a temporary wage increase.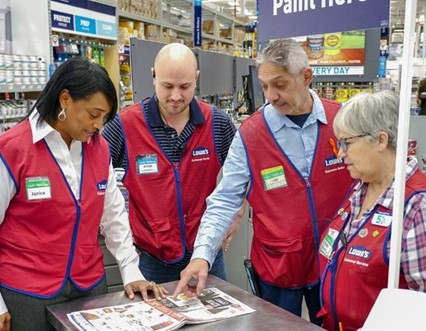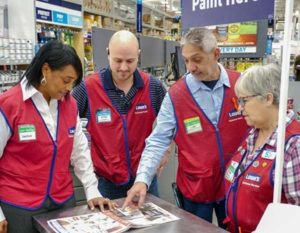 As a Black woman executive in a FORTUNE® 500 company, Dupré Little fulfills a unique role. Lowe's President and CEO, Marvin Ellison, is one of three Black CEOs in the Fortune 500, and today, Lowe's executive leadership team is more diverse than ever before: women comprise 33%, and people of color comprise more than 40%.
"It is an honor for me lead the Lowe's human resources team," she said of her promotion. "We are deeply committed to fostering an environment where individuals are treated fairly, valued, respected, safe and inspired to serve customers and our communities. It's more than words here. We're committed to taking deliberate actions to effect change."
Lowe's has prioritized investing in its women leaders through the retailer's annual flagship Women's Leadership Summit, which invites female leaders from across the globe to focus on development. Lowe's has also partnered with women's leadership organization such as Career Mastered Women's Leadership Network and Network for Executive Women to offer regional development and networking opportunities, including online learning and events that align to the footprint of its stores.
Dupré Little's promotion took place amid the COVID-19 pandemic and social and racial unrest, headlines that continue to remind her of the unique opportunity she has to give back to others as an executive and a Black woman. She hopes her achievement can offer inspiration to many women striving to develop their careers while balancing their personal and professional lives.
"It can be overwhelming when your focus is on delivering exceptional work," she said. "But we cannot entertain the option to shrink in those moments; those moments are our reminder that it's time to lead and serve."
For women focused on career development, Dupré Little shares her perspective: "Work hard. Set personal and professional goals for yourself but envision what comes with success. Understand that it's not just about you or me. As I achieve both personal and professional goals, I want to stay aware of the community counting on me to succeed. I consider it a blessing to be in the place I am today."
Dupré Little said every woman's vision for success should include the often-elusive self-care. As she continues to meet her career goals, she has learned how critical it is to feel strong and successful personally.
"I declared 2019 a year of health for me and committed to completing my first sprint triathlon," she shared. She also planned and embraced an adventure/ hiking vacation in Peru. "I have always been athletic, but earlier in my life, I would have balked at committing the kind of time both events required. Now I understand how those experiences have helped me grow, and they rank among my top personal accomplishments and experiences.
"Dedicating time for yourself can lead to the most meaningful, triumphant experiences," Dupré Little said. "Taking time to refuel – whether that's sunrise atop Machu Picchu, a reading nook at home or wherever you find restorative joy – is key to women succeeding in their own visions of career and life success."
Always game to share a great story, Raquelle "Rocki" Harris is a content curator who educates and entertains. She is an experienced writer, editor and media correspondent who values substance while appreciating style. She loves to focus on black culture, minority-owned businesses, music and relationships. In addition to Career Mastered Magazine, she contributes to Rolling Out Magazine, ThisisRnB.com and BlackLove.com. Passionate about mastering multiple platforms, she is also the host and producer of Rocki's Reality podcast on Motor City Woman Radio.