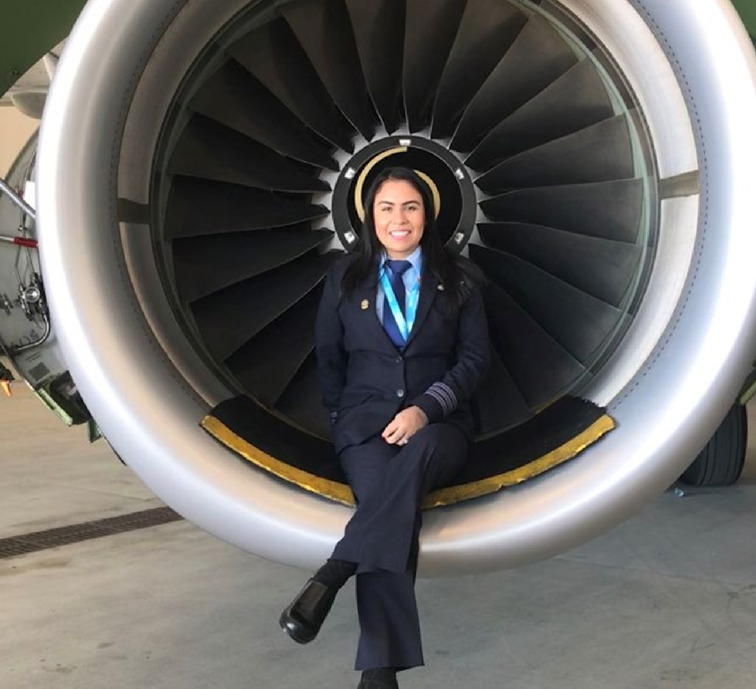 01 Sep

Camila Turrieta: First Officer at JetBlue Airways, Making Fly Moves

From the forgotten Fly Girls of WWII to Amelia Earhart to Sally Ride, women have been a part of aviation for generations, but as the exception to the rule, more of a curiosity or rarity. Thanks to entrepreneurial women like First Officer Camila Turrieta of JetBlue Airways, all that is changing.

How many women, or men for that matter, list the types of aircraft they are certified to fly on their LinkedIn profile?

And how many pilots entered commercial aviation without having flown first in the military? The sort of entrepreneurial spirit and drive that has enabled Camila Turrieta is exactly why she's being featured in this issue, for she has created and managed her career path in much the same manner as any woman who has founded or organized a business, only, in this case, the business, the brand and the product is Camila Turrieta.

Born in Chile, Camila and her family moved to the United States when she was seven years old, leaving behind extended family and friends, not knowing a soul here, yet that trip into the unknown also represents her future. Everything was changed by the very flight that brought them to their new home.

"The flight attendants asked me if I wanted to visit the flight deck and say "hello" to the pilots. This was an offer I could not refuse because the curiosity in me had never been at the front of an airplane before. Once I reached the front of the airplane, I remember the door was wide open, I looked up at the overhead panel in disbelief at how many buttons and lights there were. The two pilots greeted me warmly and showed me the different things around the flight deck; they even let me try on one of their oxygen masks! From that moment forward I promised myself that I would do everything possible and within my reach to achieve my dream of one day becoming an airline pilot. This was the moment that sparked my interest in aviation."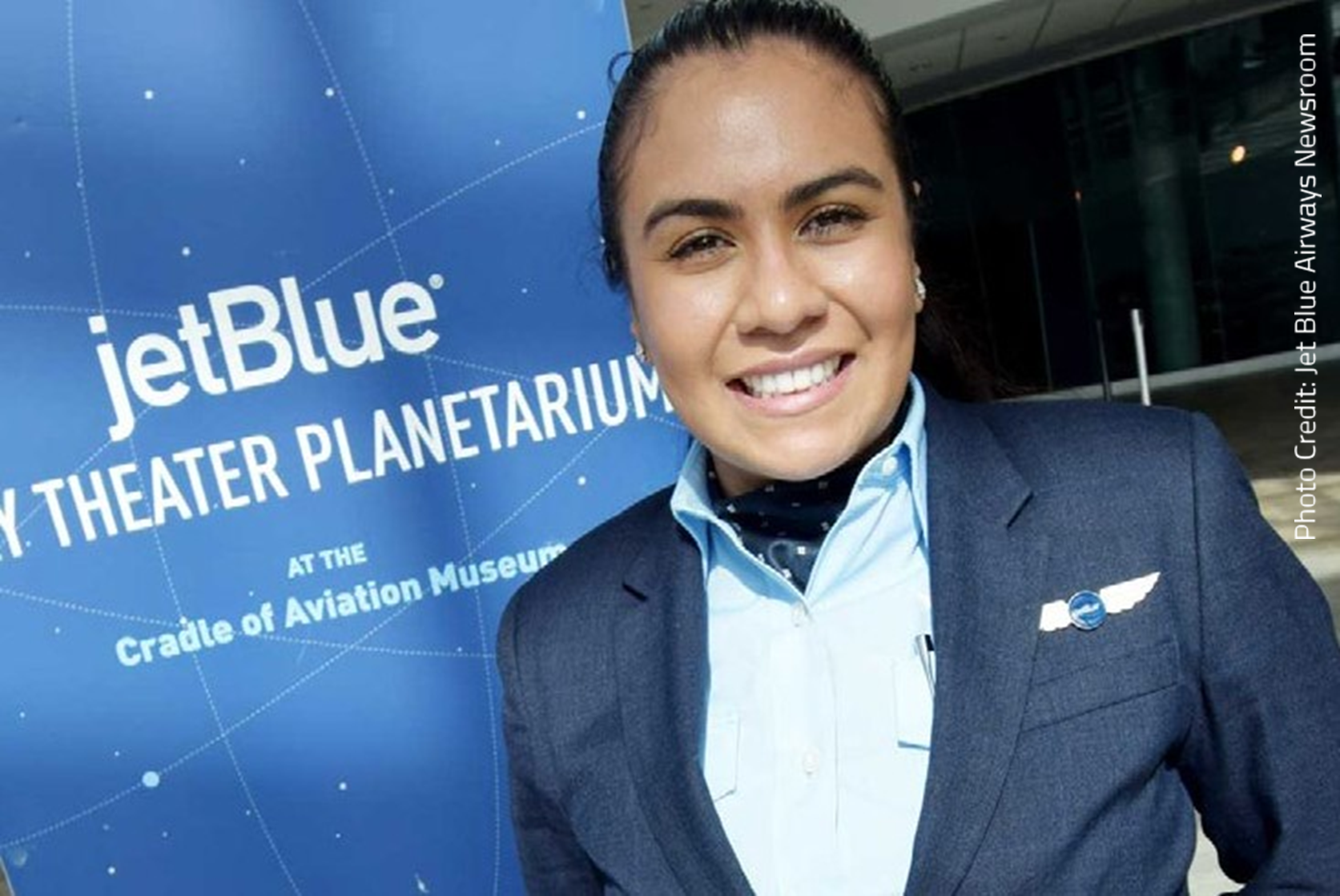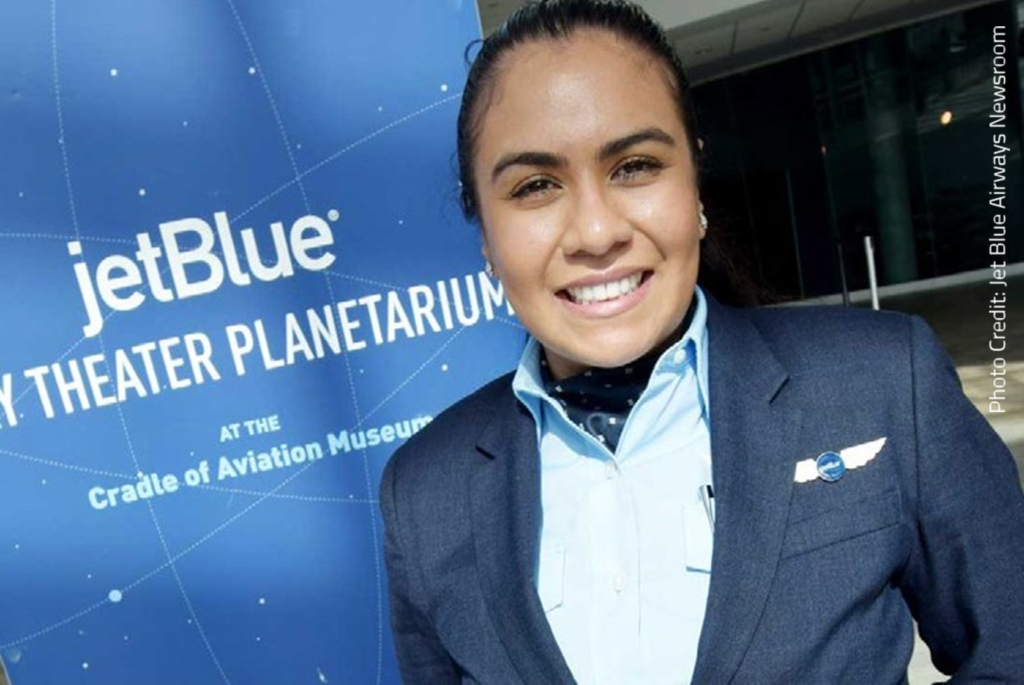 That cockpit visit drove her passion for education; Turrieta went from not speaking English in second grade to being fluent from the time she was in third grade. From there she went on to earn her bachelor's and master's degrees in aeronautics, a very non-traditional career choice. An active member of the Latino Pilots Association (LPA) and former flight instructor, she's never forgotten the difficulties she faced in becoming an airline pilot, as a woman, as an immigrant, as a Latina.
"People always ask how to be an airline pilot, but no one ever thinks about how difficult it is for some people to break through the current barriers in place that keep people from becoming an airline pilot. Action is needed in several critical areas that will allow the United States to break down barriers to foster a more diverse and inclusive aviation workforce that reflects the communities and customers our industry serves." – Camila Turrieta
One of the ways First Officer Turrieta is working to enact change is as chair of the President's Committee for Diversity & Inclusion at the Air Line Pilots Association (ALPA). Pilots, like other members of the transportation and service industries, are facing a changing work environment – from systemic racism and sexism in areas like STEM to employee shortages to disrespect and abuse from sometimes violent passengers.
"It's so critical right now to make systemic changes to enable future generations of airline pilots from all walks of life and backgrounds— regardless of race, gender, religion, or sexual orientation—to feel that the piloting profession is accessible to them. As an industry, we can no longer stand by as our members and aspiring pilots face inequities and systemic discrimination which is why we're coming together, forming a singular voice, and standing up for what's right, regardless of a pilot's race, creed, color, ethnicity, religion, sexual orientation, and gender identity." – Camila Turrieta
So how does one go about taking that leap of faith and go about launching that new business venture, that atypical career? When asked about jumping into a male-dominated field like aviation, Turrieta replied:
"Follow your dream and don't let anyone stand in your way. I once overheard my aviation teacher tell another teacher that because of the color of my skin and because I'm a woman, I would never be successful, so there was no use teaching me anything about aviation. However, I had a dream and was determined to be an airline pilot and I promised myself that I would do everything I could to achieve my dream."
Facing challenges as an entrepreneur represent opportunities if you are strong enough and brave enough to try or as Camila Turrieta responded when asked;
"Overcoming obstacles have allowed me to appreciate what I currently have but also it's a constant reminder for me to never forget where I came from and the struggles I faced along the way."
In the end, the sky and the clouds above are no limits, but achievable goals when you have the drive and the skills to overcome and soar above.
Nicole Hudson is the Founder of Hudson Collective, an integrated digital strategy and communications firm providing various sectors with creating social impact by activating their communities through branding, storytelling, and expanding their engagement with a robust online presence. Hudson's strategies are driven to deliver compelling messages and a suite of business tactics that engage, inform and influence audiences to action that creates lasting impact.