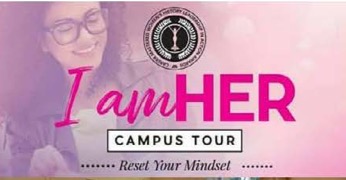 07 Jan

Career Mastered's I AM HER CAMPUS TOURS


BY: Evelyn Summerville
You might know the old sales adage that says, "People do business with people they know, like and trust." Have you considered how this impacts your employee recruitment strategy, especially with the millennial and post-millennial generations? Having a strong employer brand may no longer be sufficient enough to attract top candidates and build a talent pipeline. You'll need to establish strong relational ties with qualified prospects.
Millennials, currently aged 22 to 38, are 35% of the U.S. labor force, according to the Pew Research Center. They will grow to become 75% of the U.S. labor force by 2025. And the post-millennials are close behind, with the oldest of this generation now enrolling in college at rates far outpacing the millennials.
In today's hot job market, candidates have their choice of employment opportunities. Millennials and post-millennials are on record for transforming recruitment processes and work cultures. They want to feel connected to the company's mission and values. They desire to work with organizations that invest in their personal growth and leadership development. They are interested in firms that care about their overall well- being.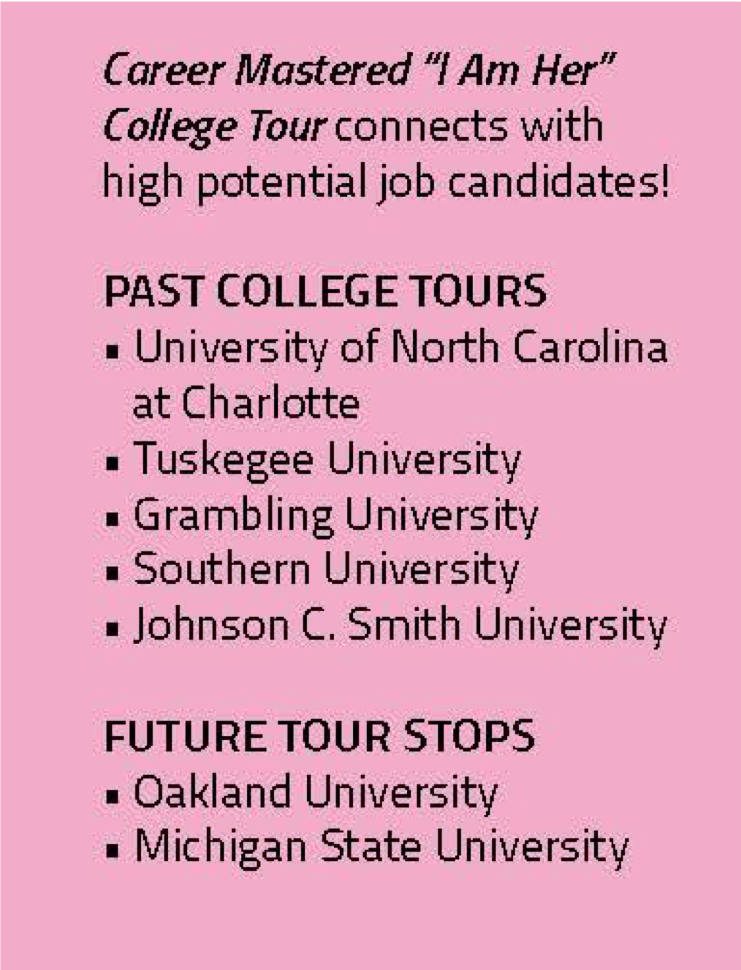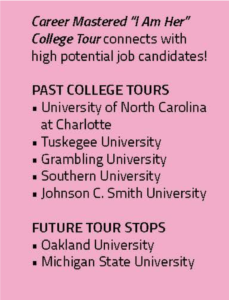 Relationships built on mutual trust, common values and shared passions are influencing hiring decisions. That's why demonstrating your firm as an ideal employer surpasses traditional college recruitment methods. College students expect organizations to engage in meaningful and authentic ways.
FRONTLINE ACCESS TO THE BRIGHTEST, EMERGING LEADERS
Early access to candidates can give you a competitive edge. Beyond job fairs and on-site interviews, the Career Mastered "I Am Her" College Tour positions your organization among the nation's brightest, emerging leaders as an employer-of-choice. The "I Am Her" College Tour is a groundbreaking concept designed to "provide female college students with 'real life' leadership principles to navigate corporate hallways or an entrepreneurial journey successfully," says Dr. Lisa Wicker, founder.
Since its inception in 2017, the "I Am Her" College Tour has appeared at seven universities and reached on average 75 plus students per visit. Students are primarily juniors and seniors, majoring in business and engineering, who have exemplified leadership potential during their collegiate years. Throughout the day, students engage with accomplished, iconic women affiliated with the Career Mastered Women's Leadership Network. Recipients of the esteemed Leadership in Action Award also participate in the college tours.
ACCOMPLISHED WOMEN CULTIVATE STUDENTS' POTENTIAL
The leadership principles and insights instilled during an "I Am Her" College Tour are centered on an annual theme. The focus for the 2017-18 tour year was
"Resetting Your Mindset". Leaders emphasized the importance of a positive, can-do attitude, a success orientation and a confident disposition. This year's theme is "Maximizing Your Leadership Potential." In two-hour panel discussions, leaders reveal their journey of self-discovery, growth and bravery to cultivate an understanding of leadership development as an ongoing endeavor.
Additional topics include "Power & Worth" and "Budget & Finance". "Power & Worth" informs women of their individual, yet collective abilities to change the status quo while recognizing their value. "Budget & Finance" equips women to effectively manage money to achieve their life, career and business goals.
Faculty and students alike appreciate the knowledge and experience of the Career Mastered network. One student remarked, "Your comments provided a perspective that I need just before graduation."
BECOME A CORPORATE SPONSOR
The "I Am Her" College Tour begins an ongoing relationship between Career Mastered and the participating female college students. Corporations can leverage this grassroots approach to connect with students and build out their talent pipelines by sponsoring an upcoming College Tour. For more information on sponsorship opportunities and benefits, contact Career Mastered at 1-866-601-4441.
As a Director of Marketing Research and Analysis for a Fortune 500 firm for several years, Evelyn Summerville has made a ton of mistakes in her corporate career. But she also got many more things right. Now she harnesses those experiences and lessons to support leaders in fast-tracking their way to success. In doing so, she empowers people to live and lead with purpose, passion and excellence.