By: Lee McCalla
Being an entrepreneur isn't easy. However, it's become increasingly popular in recent years. Still reeling from the effects of the pandemic, many people have turned to entrepreneurship to supplement their income with side hustles, by tapping into the gig economy or by creating fullfledged businesses to make ends meet.
The economic shift from the traditional workforce to business creation has strongly impacted minority groups. Now women, particularly black women, are at the forefront of entrepreneurship.
After taking an in depth look at why entrepreneurship may be on the rise for black women, here's what we've come to know.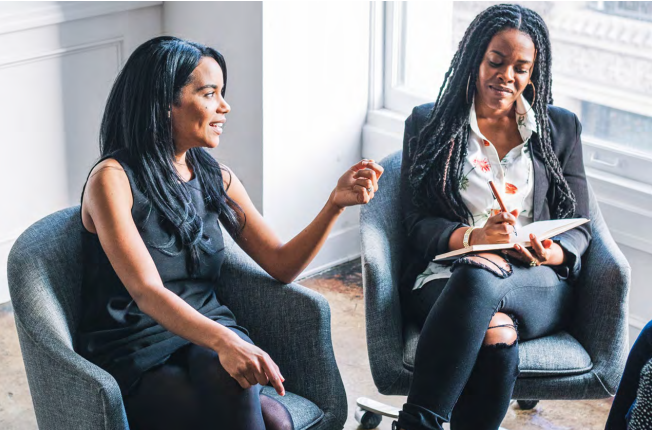 A WILLINGNESS TO RE-INVEST THEIR INCOME. According to The Harvard Business Review, black women are the fastest-growing group of entrepreneurs in the country. In 2021, studies revealed that black women created 17% of newly formed businesses. Furthermore, 61% of these women fund their own businesses despite having less income than other demographics. These numbers reflect that despite facing challenges on the road to entrepreneurship, black women are ready and willing to be business leaders in America.
AN UNDERVALUATION AT WORK. One of the main reasons black women become business owners is disparages in the workforce. Despite diversity and inclusion efforts, many companies struggle to support black female employees adequately. Many of these women express frustration with the corporate politics within the company and having to overcome barriers to mentorship, promotional opportunities, raises and other issues that impact black female employees the most.
THE DESIRE TO FORGE THEIR OWN PATH. The study also revealed that a large percentage of black female business owners are college graduates. It can be disappointing when these women don't get the opportunities they deserve in the corporate landscape despite having the qualifications. Entrepreneurship allows these women to take control of their careers while using their educational knowledge.
THE LONGING TO REAP THE BENEFITS OF THEIR WORK ETHIC. Per "The State of Black Women In Corporate America," black women work up to 40% harder than their nonblack counterparts for less reward. They also report needing more support from managers and better access to senior leaders. Despite these challenges, black women have become proactive. They are starting their own businesses and becoming their own leaders to create the inclusive workplaces that aren't currently available. In the future, this will lead to better work opportunities and visibility for black women.
THE DESIRE TO BE OF SERVICE TO OTHERS. J.P. Morgan published research identifying the types of businesses black women establish in specific industries. Black female entrepreneurs are more likely to create health, social services, education and retail businesses. Womenowned businesses in wholesale or retail trade, professional and technical services perform the best economically.
As more black women become entrepreneurs, the economic landscape will continually change. Currently, one of the most significant issues black women entrepreneurs face is securing financing. It's harder for black business owners to get loans, which is why their businesses are primarily self-funded.
Many entrepreneurs continue to work regular jobs while they wait for their companies to take off. With better access to capital and partnerships, blackowned businesses can succeed even more and provide the diversity that the business community needs.
Black female entrepreneurs can bring a unique perspective to the global economy and offer additional representation. They understand the importance of innovation and resourcefulness, which can help them connect to people worldwide. x
Lee McCalla is a writer living in New York. In her free time, Lee likes to attend concerts, eat at restaurants and read.