18 Dec

7 Ways Mompreneurs Can Get Their Groove Back

BY: Marci Bryant

I'm a stay-at-work-from-home-mom-of-a-toddler in the middle of a pandemic. Most days I am unequivocally tired, and there is often more on my to-do list than there are available hours and resources. Cohabitating for the first time, adjusting to parenthood, finding my way on a new job, and navigating new success as a business owner while trying to keep my family safe in the midst of a global pandemic some times feels downright overwhelming. With so many things constantly changing in my world, I am relearning what happiness and peace mean to me. Here are seven things I am currently doing to find my way back to joy.

OUTSOURCE

My main priorities are making money, making memories, and making my family happy. Everything I do either contributes to those goals or distracts me from them. When I think about my to-do list, a lot of household tasks distract from those main priorities, even though those tasks are essential to keeping my home functional. Allocate that former daycare budget or weekly gas budget to things like meal planning, wash and fold laundry, housekeeping, and grocery delivery. Outsourcing these tasks gives me more freedom to work, rest, and spend time with my family.

HOME MAKEOVERS

Although many salons and spas are open, I am not comfortable getting most beauty services just yet so I have done more self-care. I invested in Color Street nail strips to have fun with manicures and pedicures. I purchased a facial steamer and some peel-off masks to keep my skin glowing. I also have hair color, rollers, and a hooded dryer to keep my hair styled. Of course, nothing beats having someone else do these things for you, but if you aren't ready to venture out just yet, the in-home spa is a great alternative.

FIND YOUR HAPPY PLACE

I am a firm believer in everyone, including our toddler, having their place to go when they need some personal time. I have created my own peaceful place just steps away from the house. I have a 10×20 tent with an electric fireplace heater, tables, chairs, a cooler, snacks, wine, cozy blankets, and string lighting. I can go to my happy place and work uninterrupted for hours or just have some relaxation time to myself.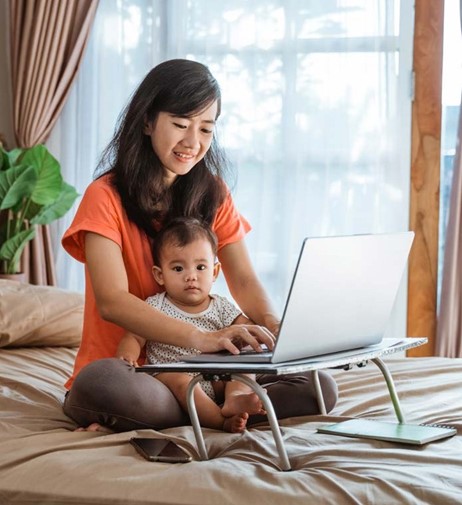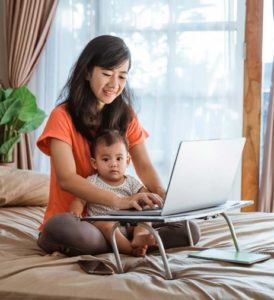 STAY CONNECTED
This pandemic seems to have no end date in sight, so we have to be flexible in staying connected without physically being present. I set up video dates with my friends and family to catch up over beverages and snacks. If you have the capacity, help your family plan virtual events like birthdays, baby showers, and family reunions. Don't miss this opportunity to make new memories just because it has to be done virtually.
PERSONAL DEVELOPMENT
The pandemic brings such uncertainty to the economy, it's important to be prepared for sudden layoffs and already have your eye on the next goal. Consider a professional resume refresh and LinkedIn makeover if you need to make a career change. Consider working on new skills and certifications. It's a great time to start planning for the next step in your career. If you are a business owner, try brushing up on skills like marketing, operations, and automation. Groupon has plenty of low-cost careers and professional development offers to check out.
GETAWAY
Are you finally sick of looking at the inside of your house after 8 months of quarantine? Book a trip and go quarantine somewhere else for a few days. Even though you are still on lockdown, just being in a different environment while doing so can be refreshing and inspiring. Book Airbnb home hours away with luxurious amenities, or keep it simple and rent a room for the weekend in a nearby city.
STAY WELL
This pandemic is wreaking havoc on our minds and bodies, we have to be vigilant about our mental and physical health. Journal to get your feelings out. Consider virtual sessions with a therapist. Increase your consumption of fruits, veggies, and supplements. Stock up your pantry with health and food essentials. Drink plenty of water. Find ways to keep moving inside the home during the winter months. Get plenty of rest. Resistance bands and dumbbells are great, along with in-home items like chairs and stairs to support exercises. Continue to get all proper medical care for you and your family with virtual appointments.
We are all living in unprecedented times and doing our best to maintain ourselves and our families. Remember to be kind to yourself, be patient with yourself, and realize that doing it all isn't necessarily better than doing what you can in excellence. Here's to a happy, healthy, prosperous 2021.
Marci Bryant is a Corporate Sales and Marketing Strategist, Speaker, and Writer. Learn more about her at www.marcibryant.com. Connect with her on Instagram, Facebook, and LinkedIn: @marcibmarketing