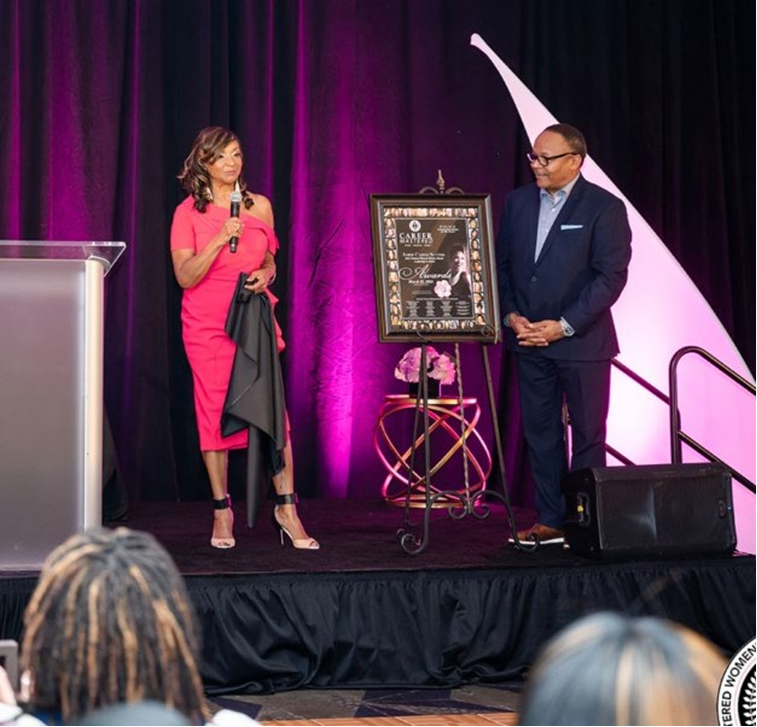 01 Jun

Oh, What a Night! Leadership in Action Awards

If there's anyone who celebrates women and Women's History Month, it's Dr. Lisa Lindsay Wicker, Founder of Linwick & Associates and Career Mastered. Shattering capacity limits and glass ceilings, Dr. Lisa Wicker highlights extraordinary women who continue to make strides that will inspire generations to come. A long-time women's advocate, Dr. Wicker has influenced the girls and women in her talent pipeline to create opportunities because she believes "life rewards action."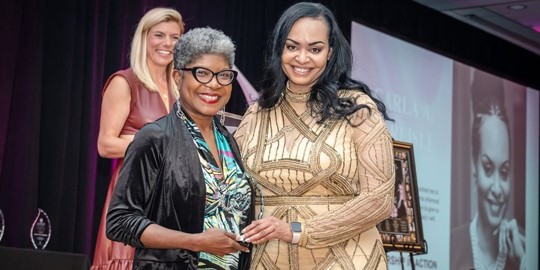 Over eight years, she has honored more than 300 women, from across more than 25 disciplines, with prestigious Diversity, Inclusion, and Leadership Awards and given over $40K in scholarships to girls to support their winning futures. As Dr. Wicker noted at the 2022 Summit, "We draw our strength from our rich heritage. 'Women's History is Women's Strength. It's an essential part of who we are as women and our ability to unify with vision for the future." Through her Career Mastered Awards, she honors historical "herstory" makers during Women's History Month. Career Mastered Women's Leadership in Action Awards and Career Mastered Diversity Impact 50 Award Honorees are among the nation's top thought leaders, firebrands, and executives who are change-makers. At the 8th Annual Career Mastered National Women's History Diversity Summit & Awards hybrid event on March 22-23, in Charlotte, NC. We came. We honored. We imparted life-changing insight.
Established in 2015, the Career Mastered Awards is the leading Women's History Month Awards honoring today's women leaders who take charge of their careers and their futures. Proceeds from this program directly support Excel Village mentoring for girls, a non-profit organization. Sponsors included Fifth Third Bank, Walgreens, Ally Financial, Lowes Companies Inc., Primax Properties, ITC Holdings, JP Morgan Chase & Co., Mercedes-Benz USA, Food Lion, Worth Advisors, New York Life Insurance, and Macy's.
"It is a powerful time to be a woman"
says Dr. Lisa J. Lindsay Wicker, President & CEO Linwick & Associates, and Career Mastered Founder. We're thrilled to honor remarkable women who make a difference each and every day while inspiring future generations. Sharing her story and achievements provides an expansive pathway of history for years to come."
Outstanding Women Achievers in competitive fields were selected for induction into the Career Mastered Class of 2022. These Honorees are exceptional role models of what a woman can accomplish. To view the entire list of Honorees, visit careermastered.com.
The 2022 Career Mastered Women's History Leadership in Action Award and Diversity IMPACT 50 Award are a coveted accolade… its recipients are deserving of grandeur, esteemed recognition, banquet walls lined with their posters and pictures, crystal awards, the funniest of emcees – WBTV's Molly Grantham, television honors on the WBTV evening news anchored by Molly Grantham, cake, a champagne toast…and a memorable Girl's Night Out after-party. Let's just say that if you didn't see it for yourself, you can only imagine the fun that was had.
CARLA CARLISE, TEDx Speaker / Child Advocate / Author / Trauma Expert and 2022 Career Mastered Leadership in Action Honoree, gave a perfect summary of the Awards program when she said this —
"…I gained a room full of sisters."
This is a time to remember the perseverance and courage women have shown in pursuit of equality. Progress has been slow. This slow progress is why we must encourage more women to become leaders whether in government, media, higher education, technology, sports, or the arts and continue the fight for women's advancement.
Benefits:
Networking with firebrands, thought- leadership women who have demonstrated abilities to lead Attend seminars that will advance and enhance your career
Network with corporate partners and organizations looking for talent
Expand your peer-to-peer network
Dialogue and discuss important issues to women in the marketplace
Learn more about Career Mastered Women's Leadership Network and Excel Village STEM-FAB Girls Programs
Who should partner with Career Mastered Women's Leadership in Action?
Companies that value diversity and the inclusion of women leaders.
Companies that would like to reach professional women to promote their brand, product, or corporate initiative.
Companies that support women's economic growth.
Companies that want to reach global markets through the power of the Career Mastered Women's Collaborative Leadership Networks (CMWLN).
Companies that support communities where they serve and do business.
Companies that get it!
Companies that want to experience the Career Mastered brand of events while propelling their brands.
Don't miss out on the Pink Carpet Excitement in 2023. Subscribe to our eNews community at careermastered.com and be among the first to know about our 2023 programming and nominations cycle.
Tisha Hammond
Chief Community Activator
Career Mastered.
A global Pep Squad calls Tisha Hammond "The Small Business CheerleaderTM." She is the author of 'Daily Devotional for Entrepreneurs: Your Season to Grow,' host of 'Pep Talk LIVE,' and a Storytelling Coach. Entrepreneurs who want to attract media attention, attend her 'Lights, Camera, Action' events and group mentoring programs.