By: Stephanie Hancock
Imagine having won 23 Grand Slams, seven Wimbledons, seven Australian Open titles, six US Opens, and three French Crowns all by the age of 40. Then right as you were at the top of your game, you walked away. This is exactly what tennis champion Serena Williams did in 2022. Her reason was simple: She was evolving from tennis and ready to be successful in a different part of her life. Does this sound familiar?
Although you may not be a world-famous athlete, you may be experiencing a similar feeling of being at a crossroads ready to leave your corporate role at the top of your career to be your own boss.
Let's explore your options before making your move so you can see what it's like to evolve as a corporate top performer into an entrepreneur.
YOU ARE NOT ALONE According to Google Search in 2021, the world searched "How to Start a Business" more than "How to Get a Job". In that same year, the US Census Bureau reported over 5 million business applications were submitted. This was a record number of applications.
We are living in a world that has opened the door of opportunity and possibility for millions of people. The mindset toward traditional work has changed. Work anniversaries and milestone birthdays can encourage reflection on where one is in their career and where one would like to see themselves in the next chapter of their life.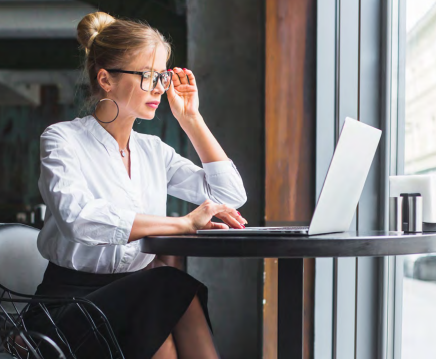 PURPOSE VS PASSION In his bestselling book "Start with Why," Simon Sinek describes the center of the Golden Circle as the Why. Few people or organizations can clearly articulate their why. Your why is your cause, your purpose, and it's what you believe.
Some have confused this with passion, but passion can be driven by emotions and may not support a person when things are rough. Beliefs are powerful drivers in our lives so much so that strongly held beliefs can motivate people to do amazing things. Take the time to identify your core beliefs, values, and discover your purpose. These are things that will move you to action, propel you forward, and support your continued growth and development throughout the ebb and flow of business.
CREATE AN EXIT STRATEGY Map out your course. Put pen to paper or use whatever electronic device of your choice to develop your plan for the next 12 months. Begin a savings account specifically for your business. Calculate the cost of the LLC or 501(c)(3), taxes, website, content management, administrative support, additional training and/or certifications, and professional associations that may be relevant to your new field.
Take a good look at where your current employer will be in the next 12 months. Will there be an acquisition, or a large project starting or ending? Consider these and other things related to your current field. You want your transition to be smooth, when possible, so as to not burn any bridges.
DON'T GO IT ALONE During the development of the exit strategy, begin enlisting the help of a business coach. You may have the expertise to start the business, but a coach will ensure that you build on the right foundation. Also, enlist thsupport of several different mentors. Some of these mentors will cost. However, do your due diligence and select quality people that will empower you towards growth. Determine the different phases of your business to support what type of mentors you will need. Take advantage of federal, state, and local resources. Your local Small Business Administration (SBA) can provide guidance, and education often at little to no cost.
Time goes by quickly. It's been a year since Serena announced her "evolution from tennis". She has discovered her current purpose, which is to continue to grow her family and have a second child. Ask yourself, "What do you want to be doing a year from now?" It is your turn to embrace your purpose and move forward with your evolution from corporate to entrepreneur. x
Stephanie Hancock is the Owner of Career Rise, LLC. She is a Professional Development Strategist, HR professional, DISC Consultant, and a member of the John Maxwell Team. Stephanie is an avid reader and is passionate about professional growth and development.