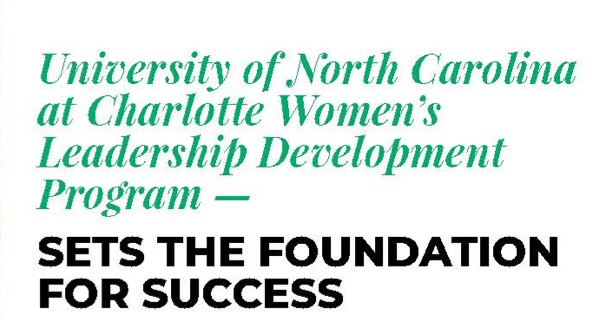 07 Jan

Women's Leadership
University of North Carolina at Charlotte Women's Leadership Development Program – Sets the Foundation for Success
By Racquelle Harris
Photography by Tony Rushing
Makeup by Monique Simone
The outcome of this year's midterm elections reflects what we've known for a while: women create and command several seats at the table. We are crushing barriers in order to shift the paradigm of leadership. This is part of the mission of the Women's Leadership Development Program at the University of North Carolina at Charlotte.
The women's leadership series is for students who identify as women and who are currently acting as leaders. Students who are nominated by a faculty or staff member attend sessions where they interact with and learn from women leaders from the campus, as well as the community.
A range of topics are covered, including leadership style in practice; breaking into male-dominated fields; the role of mentorship in women's leadership; the choice to work outside of or in the home; negotiating for career progression; and adulting 101(budgeting, how to find a doctor, searching for an apartment, self-care).
Director of Leadership & Community Engagement, Mindy Sides-Walsh, along with Assistant Vice Chancellor for Student Affairs, Karen Shaffer, started the Women's Leadership Development Program in 2014. After almost 30 years with the institution, Sides-Walsh has witnessed the evolution of its leadership programming.
UNC-Charlotte was on the forefront of leadership development. It was one of the first universities to have a program like this," she explained. "It has the largest collegiate leadership program in the state of North Carolina."
A 2013 study of female students at Princeton, Duke and Boston College revealed that "College women leave and graduate with less confidence than when they arrived." Various reasons, such as societal pressure to appear and feel "perfect," are the causes. As part of their strategy for instilling confidence, the WLDP occurs in a relaxed, informal setting.
"We want to keep it conversational," says Sides-Walsh. "We don't want it to feel like a classroom. We want to give women the opportunity to hear from other women about their leadership journey and things they've overcome. It's a really powerful experience."
The guest speakers include distinguished alumnae and others, such as the founder/publisher of Career Mastered Magazine, Dr. Lisa Wicker. Women comprise almost half of the student population at UNC- Charlotte; thus, their leadership roles are essential to campus diversity. The women who attend the Women's Leadership Development Program at UNC-Charlotte have personal and professional bonds that will last past their graduation.
"Leadership is about relationships. And I think women are much stronger at creating relationships than men. You can't lead if you don't have relationships with people," insisted Sides-Walsh.
Senior Trevor Greggs, who is majoring in Communications with a minor in Public Relations, is one of many students to receive guidance during her time in the WLDP. As the Vice President of the Campus Activities Board and Director of Marketing for EntrepreneuHER, an organization that focuses on female self-success, she describes her involvement as "a really great experience to help us grow as women." Among the many lessons learned, she notes the ability "to nurture supportive relationships" as the most important.
Greggs' also recognizes why it's necessary for women to maximize their leadership potential. "As a woman, within your career field, you don't want to become stagnant. You always want to grow," she said. "Before the program, I thought I had everything in mind when it came to leadership development and all the different skills that you could learn. When I started the program, I learned a lot more. Be open to learning. Be open to growth."
Involved with multiple organizations, Makala Carrington serves as President of The Public Health Association. She also created a mentoring component for UNC- Charlotte's black cheer team, Cheer Nation. The senior, who was recently nominated for Who's Who Among Students at UNC-Charlotte, is passionate about sharing her knowledge and experiences with others. During her time in the WLDP, she realized that women should, "use our womanhood power to work together, instead of creating division."
Carrington gives kudos to the WLDP for promoting collaboration over competition, regardless of race, culture or socioeconomic status. "The program allows you to look at all women from different races as your equal," she shared. "We are fighting the same fight of womanhood, no matter what race we are. When we're vulnerable, we tend to open up and uplift each other. We tend to use that space as a positive one instead of one that's hostile."
Carrington is an example of how positive changes happen when you occupy the right spaces. "The Women's Leadership Development program set that foundation for my entire year at UNC-Charlotte," she said. "I started finding my passions and taking on leadership positions. I started making initiatives and doors started opening.
I ended up at the CDC (Centers for Disease Control and Prevention) this [past] summer with an internship and now, I have my own mentoring program. I can say I've carried on that legacy of mentorship."
No one is an island. Thus, we all need someone to help us transition and transcend to the next phase. As an Economics major preparing to graduate next spring, Haley Boram invested in her own leadership journey by participating in the Women's Leadership Development Program.
Among her leadership positions, she serves as the head facilitator for the Venture program on UNC-Charlotte's campus. It creates outdoor courses, which focus on team building skills.
Boram, who is also a teacher's assistant for an American Politics course, founded a campus art therapy club—Art and Mindfulness—that helps students increase mindfulness through art. She credits the WDLP for empowering her to eradicate her lifelong struggle with imposter syndrome and her new perspective on networking.
Boram stressed that having an open mind to receive support from unexpected sources is key. "Not every speaker that comes in is in your exact career path but they still may have some helpful life advice," she said.
Most of the women involved with UNC-Charlotte's Women's Leadership Development Program, report life-changing growth. Senior Cheyenne Gest, who is majoring in Organizational Communication with a minor in Urban Youth and Communities, is part of the team that advises students in the Leadership and Community Engagement office.
"I didn't know that student affairs could be a real job. When I joined the Women's Leadership Program, one of the speakers was the director of the fraternity and sorority life at UNC-Charlotte," Gest said. "She explained her story and how she got to where she is. Although, I had gained experience about up-and-coming women, and being a woman and owning that, I walked out of that meeting and realized that's exactly what I wanted to do for the rest of my life."
Gest's participation in the program challenged her to evaluate how her upbringing affected her worldview.
"I was privileged enough to have a wonderful childhood. My education was paid for and I didn't come into many of life's hurdles as some other women have," she explained. "I grew up in South Charlotte, which is more of a white community.
It wasn't until I got to college that I was challenged about the fundamental elements of who I am as a person. And Women's Leadership started that for me."
As the student body president for UNC- Charlotte's 29,000 students, Niayai Lavien is gaining extensive experience related to her Political Science major. She is also the only student representative on the college's board of trustees. Transparency from the Women's Leadership Development Program guest speakers enlightened her.
"I got to see a lot of successful women in their roles. Almost all of them started by saying that they didn't have it all figured out when they were my age, which is comforting to know. I think we get trapped in our heads, thinking we need to have it all sorted out. Having experienced women speak to you about the issues they face, the things they have to overcome and the things that they do in their day-to-day lives is inspiring, alone."
Lavein believes knowing who you are as a leader will help female leaders prevail over challenges. "I think women are natural born leaders. It's important to understand what your leadership style looks like so you can be the best version of yourself," she said. "Leadership isn't just this one thing. It transcends over so many facets of your life. I really do credit Women's Leadership Development for helping me not only determine what type of leader I am, but how to make myself the best leader I can be."
Sides-Walsh added, "I hope to see more women in leadership roles. We forget that women are leaders when they have a family. They're leading in their communities and in groups with whom they affiliate. I want our women to have the confidence to lead. We don't want them to stop when they leave college. They will have the confidence to lead in their careers and beyond."
Writing and editing are cathartic for Write Down To It, LLC founder, Raquelle "Rocki" Harris. She is passionate about black culture, minority-owned businesses, music and women's issues. Her past contributions include For Harriet, SoulBounce and Nia Magazine. In addition to Career Mastered, she contributes to Rolling Out magazine and ThisisRnB.com. She aims to blend multiple media platforms. Her top-rated podcast, "Rocki's Reality," airs on Motor City Woman Radio